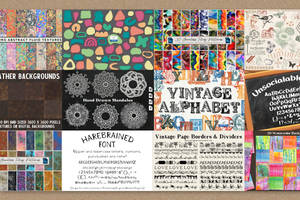 HG Designs Subscriber Area
Lots of high resolution goodies for graphic design including textures, photoshop brushes, seamless patterns and more.
---

FREE! drbjr Custom Brush Categories - PS Brushes
Description
DEMO Video here:
youtu.be/oZ3Z59VQtAc
! DOWNLOAD top right THIS page!
-----------------------------------------------
Simple and easy way to sort your Photoshop brushes
2 .abr brush files you can choose between a small thumbnail or large thumbnail set up - See demo or deviantart link for a visual
Comes with 12 different categories Main,Chalk,Paint,Texture,Clouds,Nature,Rocks,Effects,Favorites,Custom 1/2/3
12 Brushes to each category based on the use.
You can Add/Remove/Swap/Rearrange brushes and categories. There is a full video tutorial Included: I walk you through customizing your brushes and categories.
There are also some backup files just in case.
FOR FREE: But you can donate a little something if you want. Link below. Thanks
-----------------------------------------------
COMPATIBILITY Please READ:
Photoshop Only - No I will not convert or make them for any other software
They are just .ABR files should work just fine on windows/mac

As far as versions of Photoshop, I use CS6/CC but it should work on earlier/later versions
!Always save your documents at regular Intervals - I am not liable for anything lost/broken/corrupt Or anything else.!
-----------------------------------------------
Installation Instructions:
Super easy.
3 min Install Video here:
www.dropbox.com/s/k0irx15oe1nl…
or Follow along below.
1. Extract "drbjr-CBC" to where you can find it - Open Photoshop
2. With Photoshop Open - Open your BRUSH PRESETS panel - Menu Bar - Window - Scroll down and you will find it.
3. Once that panel Is open - Click TOP RIGHT corner - Scroll down to REPLACE BRUSHES - Search for "drbjr-CBC" folder you extracted.
4. Open "drbjr-CBC" folder - Choose from the 2 .abr brush files there - Large for full name Identifiers - Small for Abbreviated Identifiers - Click LOAD.
5. Once the brushes load - Change brush presets panel to small or large thumbnail view - Click top right corner and scroll down - choose "Small Thumbnail" or "Large Thumbnail" -Resize the brush presets panel until the category Identifiers line up on the left had side.
6. You are done - There is also a full video tutorial Included were I walk you through customizing/Editing the categories/Adding/Removing brushes and categories.
-----------------------------------------------
Brush Library Hub -Updated Often with new brushes-:
copy.com/urdhj426d8yP
-----------------------------------------------
Feel free to check out my Photoshop CS6/CC extensions:
FREE Digital Painting Companion(NEW):
fav.me/d9knhz8
FREE Digital Painting Companion(Old):
fav.me/d7ngv3b
FREE Custom Brush Categories:
fav.me/d7ylrtn
MINI Custom Brush Manager:
fav.me/d7wr3gf
Custom Brush Manager Extended:
fav.me/d7kmovm
Custom Brush Size Sliders:
selz.com/items/detail/53be9088…
-----------------------------------------------
Email: drbjr.art@hotmail.com
Portfolio:
drbjrart.daportfolio.com/
-----------------------------------------------
Social Media links:
Facebook:
www.facebook.com/drbjrarts
Tumblr:
drbjrart.tumblr.com/
Twitter:
twitter.com/drbjr_art