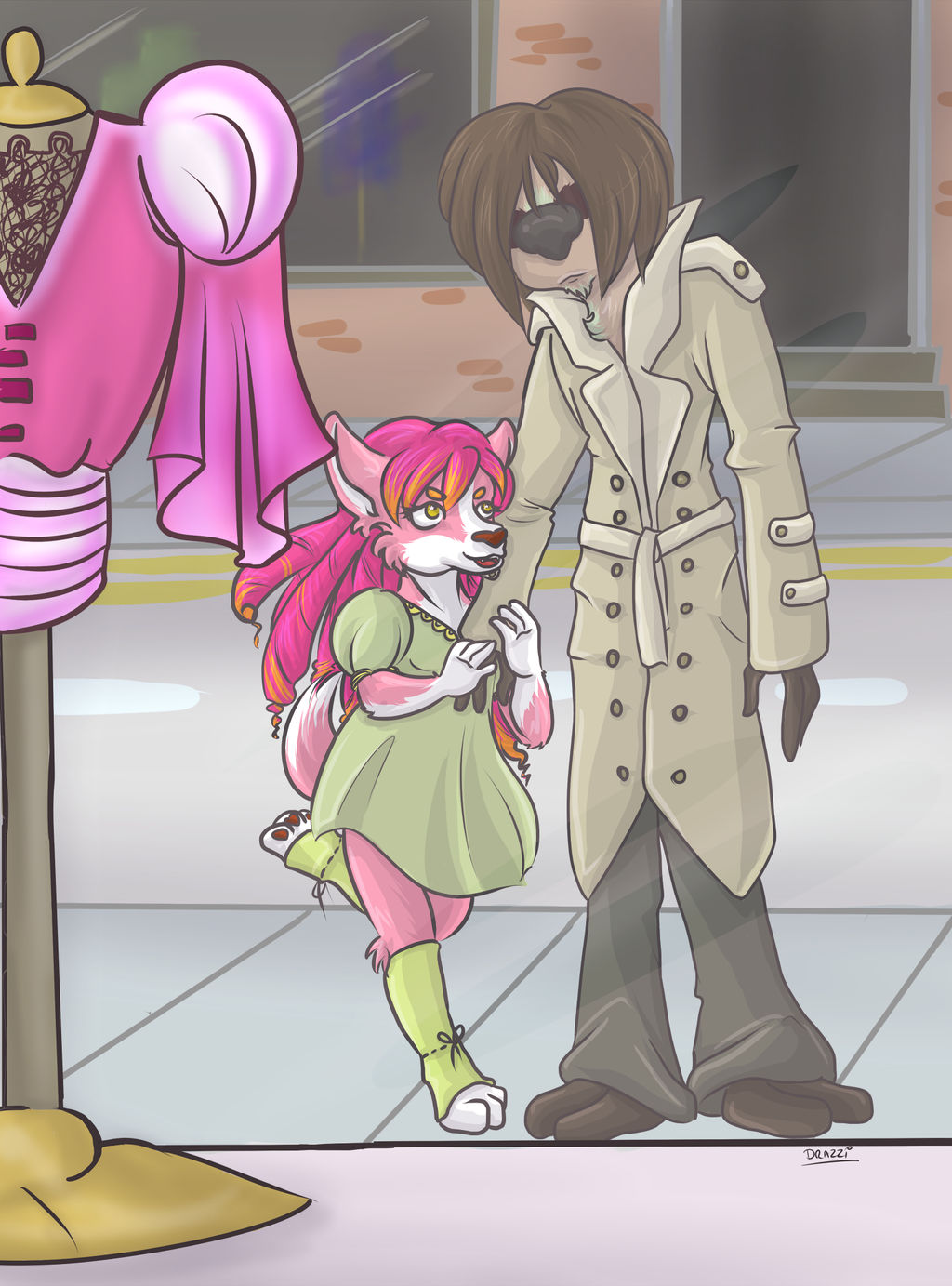 Watch
I think about Feb or even longer ago, I asked my gorgeous
angelwolf
to do an art trade - with the previso that I had to finish my half first, because I'm pretty awful sometimes
Months later, proving my awfulness, I have finished! I literally sketched this the day after asking to trade, and its just taken me forever do finish lining it. Like I had Kanna lined for months, and just yesterday and today lined everything else and coloured it.
I went through a phase of hating this while I inked Brad, but eh. I think it worked out in the end.
SO ANYWAY! Kanna, the ever adorable, has spotted something she wants and Brad, the ever patient, will probably find himself buying it. I mean, a girl's gotta have MORE pink right?
See my gorgeous half over here:
Standard Disclaimer
Characters and story © drazzi, CreatoreMagico and angelwolf
Art by drazzi
Comments > Faves

You simply CANNOT argue with them puppy eyes <3
And man, I just love this as a whole package - it's just such an endearing scene - you can practically hear her ever-so-slightly-annoying-but-still-undeniably-adorable whine of pleeeeeeeaaaaase just by looking at this! Those ringlets <3 <3 <3
Reply

I love the contrasts of expressions and colours and heights and this is so cute! You can tell he'd prefer to just blend into the background while she wants ALL THE COLOUR.
Reply

Brad would rather be asleep, but when your girl is a hyper puppy you gotta put in the effort XD
Reply

OUR BABIES! Seriously I still haven't been able to come up with a coherent comment for this one but I am still absolutely in love with it! I still have it in my notifications so I look at it every day and IT JUST MAKES ME SMILE SO MUCH! UGH! I love you!
Reply

Haha I'm very glad you like it hon <3 Sorry it took me like a year? I'm pretty much consistently awful with arttrades XD;
Reply

I looove how the veiw is from inside the shop looking outward through the glass. It's like the shop assistant has seen them and is like "SALE!"

The colours are lovely and I love Brad as always, he's so <3 Most people will think Kanna is tiny but really it's him who is massive tall. <3
Reply