I am a self driven full time freelance artist who really enjoys fantasy/sci fi.
My birthday is November 4th
My commission prices and information are as follows;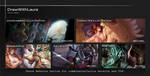 Commissions:
Check out my website for slot openings, they're usually on weekends!
www.drawwithlaura.com
if you're interested!
No Point commissions sorry!
Gifts:
Friends only, and only when I have time, please don't ever ask for a gift, I will give it if I can/want to.
Requests:
Requesting an idea, theme, fanart, ect is welcomed, requests of you or your friends characters however, is not accepted-you can commission me though!

Trades:
I love trades, I even offer reduced rates on my commissions if you draw something for me! Make sure to ask me about it first!

Collaborations:
These don't happen AS often as they take more time, but you may still inquire about it c: