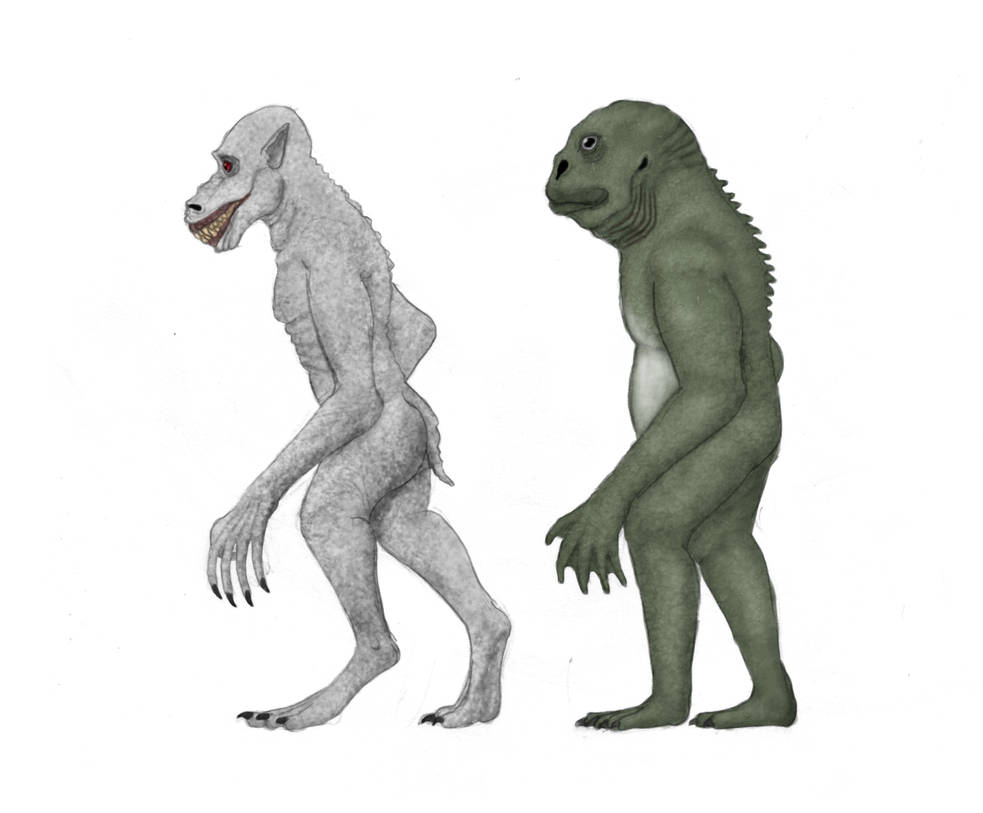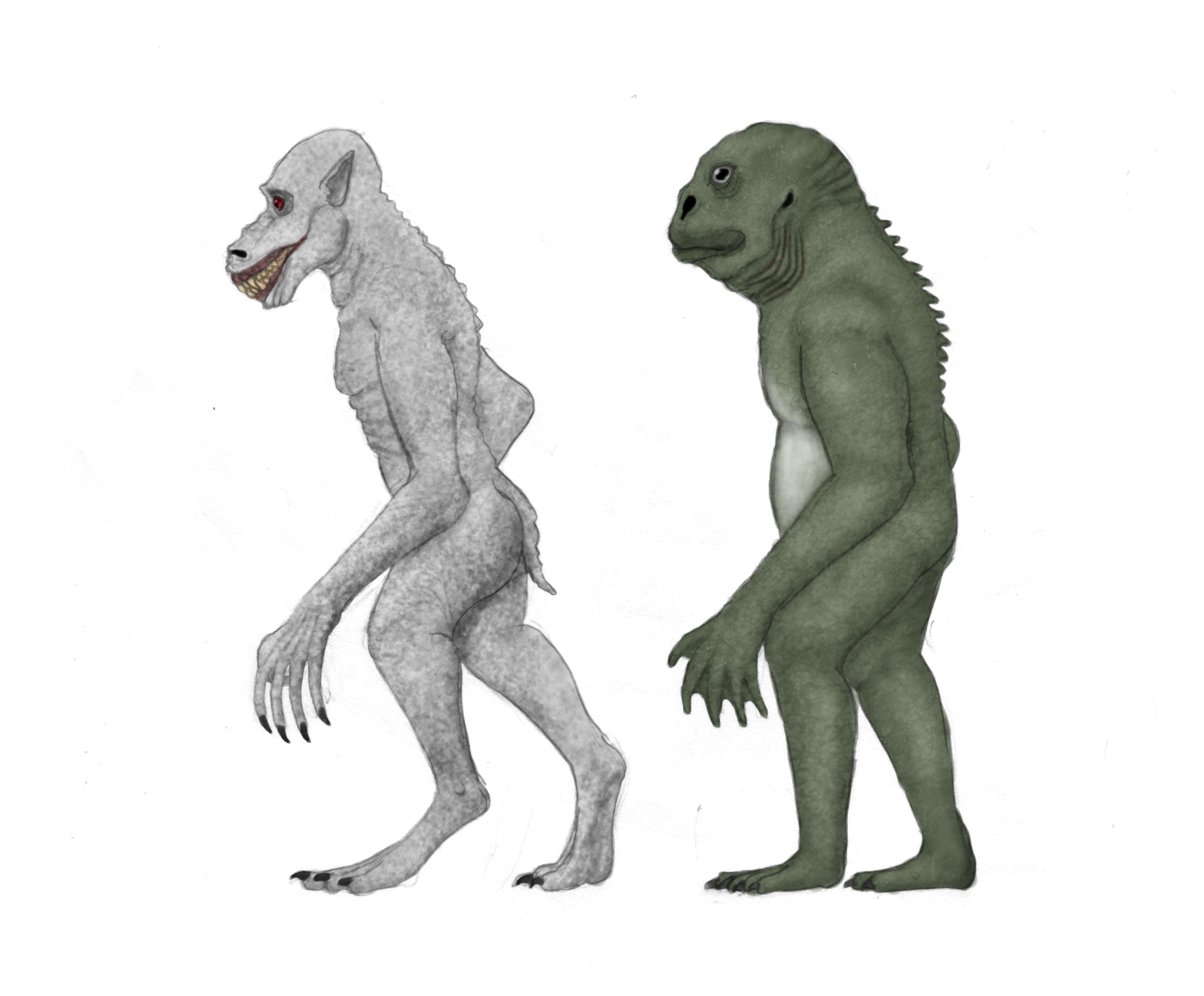 Ghoul
It was a colossal and nameless blasphemy with glaring red eyes, and it held in bony claws a thing that had been a man, gnawing at the head as a child nibbles at a stick of candy. Its position was a kind of crouch, and as one looked one felt that at any moment it might drop its present prey and seek a juicier morsel. But damn it all, it wasn't even the fiendish subject that made it such an immortal fountain-head of all panic—not that, nor the dog face with its pointed ears, bloodshot eyes, flat nose, and drooling lips. It wasn't the scaly claws nor the mould-caked body nor the half-hooved feet—none of these, though any one of them might well have driven an excitable man to madness.
H.P. Lovecraft, Pickman's Model
Deep One
I think their predominant colour was a greyish-green, though they had white bellies. They were mostly shiny and slippery, but the ridges of their backs were scaly. Their forms vaguely suggested the anthropoid, while their heads were the heads of fish, with prodigious bulging eyes that never closed. At the sides of their necks were palpitating gills, and their long paws were webbed. They hopped irregularly, sometimes on two legs and sometimes on four. I was somehow glad that they had no more than four limbs. Their croaking, baying voices, clearly used for articulate speech, held all the dark shades of expression which their staring faces lacked.
H.P. Lovecraft, The Shadow over Innsmouth
I wanted to gather some other humanoids, but I only managed to find these two as the few that seem to exist physically in the universe of lovecraft, being the others found in dreamlands like the Nightgaunts.


That ghoul looks absolutely haunting. Pickman would be proud! One complaint I do have is that its teeth and jaws seem better-suited for a fish-eater than a scavenger. Other than that, this is a top-notch piece.
Reply

Thank you.
I not sure why you mean with that, the jaw is more or less elongated as a canine carnivora, and the teeth is supposes to be like these ones, with triangular molars like in this wolf jaw.
www.statenislandmuseum.org/ima…
Reply

True, but compared to a more devoted scavenger (
upload.wikimedia.org/wikipedia…
), the teeth seem less suited for crunching through bone. Not trying to nitpick, though. It's fine either way.
Reply

I know some have suggested the Men from Leng occasionally visit Earth and were the inspiration for satyrs/fauns and medieval devils. I would love to see your depiction of them
Reply

I think you missed the white belly on the Deep One
Reply

I really like your interpretations of these creatures. I like how you went more hominid with the deep one especially.
Reply

no matter what, when someone draws Lovecraft's ghouls (accurately, that is), i still see specialized members of the baboon family
Reply

They look very much as Lovecraft envisioned them.
Reply

'The Shape of Water' 2017
Reply