At this point; No.
It's not that I want to be mean, but the reality is this is a very complex plush with a even more complex pattern. All together the completed plush has over 1000 pieces.
If I gave out the pattern as-is, people would have no idea how to put it together. The printout alone is over 70 pages (assuming you are flipping the pattern, otherwise double that). Heck, I made the pattern AND had the 3d model for reference and I still made mistakes and had to redo parts.
In order to give out the pattern I would have to tweak it and create very detailed instructions.
And before you say "Don't worry, we can figure it out!" you don't understand, none of the pieces are labeled. It's not like a normal pattern, its shapes. The way I make patterns is making a 3d model and UV unwrapping it in flat segments along the seams I place. To make sure they all stay the same size relative to each other I do all the pieces at once (yes, all of them). Then I would use the arrangement of vertices on each flat piece to figure out where it goes on the model, and then use colored pencils on the printout to mark where they connect to each other piece. Currently the pattern looks like this.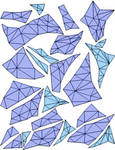 That's what I mean by 'tweak'. I need to label, arrange, outline, and number all the pieces. And that's not even the hard part. The Hard part is making the tutorial so these labels and numbers make any sense.
That would take a ton of work (1000 pieces, remember?). In order to justify the shear amount of work I would have to charge for the pattern. And it's not going to be cheap.
And to be honest, I don't think there is enough interest to justify the work. Don't get me wrong, I get asked all the time if people can have the pattern. But they do not quite comprehend what they are asking.
How many people are willing to drop cash for something that, in all likelihood, they will not finish?
Don't get me wrong, If there is genuine interest I am more then willing to do the work. But what I mean by 'genuine interest' is only comment that you want it if you actually want the pattern and would be willing to pay like 100 bucks for it, not just a theoretical want.
But keep in mind anyone attempting to do this pattern has to be insane like me. No sane person would ever attempt this. You have been warned.
What would be the theoretical difficulty of this pattern?
If you have time, patience, and know how to hand sew you can do it.
If you are a wizard on a sewing machine like this world has never seen, you can do it faster.
I'm going to be honest, I have no idea how much I would charge for it. How much would you pay for it?
Did you make the 3d model?
Not from scratch. I started with the Alduin model from the game and used it as a base, basically redoing the typology and much of the mesh so I could place the 'seams' and make it plush friendly. Side by side both models look pretty close, until you took a closer look.
Wait, You walk around with him on your head?
Yup. Funny story behind this one.
I finished sewing him on the drive to attend Worldcon in Spokane, Washington. I actually stuffed him in the hotel room the night before the convention. The next morning I was proudly showing of my new creation by walking around with him. To avoid him touching the ground I held his legs to my neck so he rested on my head but was mostly on my back. After doing this for a while I got the munchies so I handed him to my dad to hold for me while I got some pizza. When I return my dad is just standing there with Alduin balanced on his head.
He thought that's what I had been doing the entire time, and of course my response was "yOU CAN DO THAT?" Turns out he is perfectly balanced if you put his belly on your head. Which means I can easily carry him with me while keeping my hands free. It's quite fun to place him on excited kids heads.
The downside is people literally think he is a hat.
Can I commission you to make me one?
Ehhh….. Maybe?
There is no way this plush can be mass produced in any manner. The first one took me 2 years to make start to finish, so we have to be realistic. The real question is are you willing to pay 6000$ for a stuffed animal? If so, hit me up.
Can I commission you to make a different Plush?
Sure. I don't really have a price chart but I can give you a ballpark.
Simple plushies like weedle I can get done quickly (2 weeks?) and I would probably charge 200$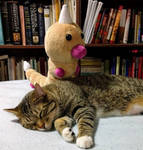 At conventions I usually charge 20$ for small sup guys, 60$ for the bigger ones. But that is not including shipping.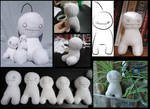 More complex ones will cost more. The tiger would probably be 400-600$ depending on if I had to design new custom printed fabric for the project.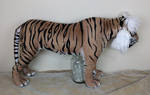 I am making a cthulhu plush atm, and that one would probably cost 1000$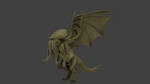 Bigger plushies are easier to do, but take more time. Just keep in mind shipping is expensive (to ship the tiger was like, 150$)

Basically, Ask for a quote.
Can I commission you to make me a pattern?
Heck ya. Making patterns is what I excel at. It would also be a lot cheaper. The main cost for making a plush is putting it together. Sewing takes time, and time is money. (and I am slow at sewing)