If you haven't seen these dragons yet, yes they are inspired by "the dress". After a long and pointless debate over that stupid thing with my husband (we each saw the opposite colors), we decided it didn't really matter and was in fact both colors. It really just depended on perception. And so he jokingly suggested I make a dragon couple in those colors. The colors actually go really nicely, and I ended up putting way more time into these than I ever really planned to. At least SOMEthing good came out of all that dress nonsense, right?
Anyway, the set is now up on ebay for anyone interested. They would make a fantastic cake topper, for all of you out there STILL trying to request one from me. Commissions are closed indefinitely guys, sorry

So if you have been dying for a dragon couple from me, now is your chance:
www.ebay.com/itm/Opposites-Att…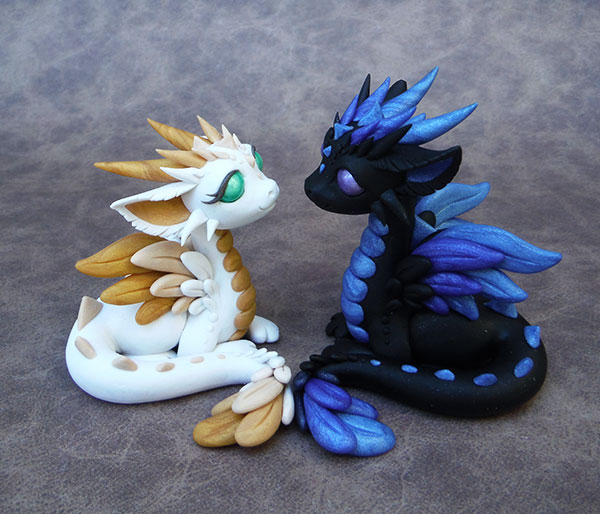 Man...I feel like I post so little anymore. Takes me forever to finish things... I've been trying to relax more and not push myself to work so much. I got reeeally burnt out during the holidays, and in general tend to be a bit of a workaholic. But I realized I was watching Ember all day, keeping house and running errands, and then jumping right into sculpting once she'd go to bed and stay up waaay too late on projects. I was basically working solid everyday, with pretty much no down time. So I've gotten back into gaming, and even reading. I've been playing Majora's Mask recently, never actually beat it way back when on the 64. I've enjoyed spending more time NOT worrying so much about being crazy productive, and I've been happier for it. It's just made me realize everyone needs some downtime in their day, or they just become a machine. I of course still sculpt when I can, but I don't try to do so every little chance I get. It's just not worth the stress and potential burnout. If I feel inspired to work, I work. If not, I don't push it.
It is funny though, sometimes I think back on those days before I had Ember and wonder what on earth did I do with all that free time?! Definitely took it for granted

--------------------------------------------------------------------------