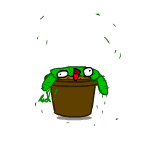 Howdy. This is a very excited cactus.
Some of the things I can draw:
-Dragons
-Wolves/canine-like creatures
-Ponies
-Horses
-People (not particularly well though.)
-Skylanders
I can draw some other random things. I guess it just depends what exactly it is. I'll give anything a go.
I'm still learning to draw people. It's going to take a while to be able to draw them to my standards -.-

It's not as serious as Red Alert but more serious than Blue Alert.

Favourite thinnnnngs:

Favourite TV showssssssssss:


Favourite Gaaaaames:


:thumb349369026::thumb314620822:



:thumb102054868:

Opinions:

Funny stuff:





People I know irl:



Get a FREE visitor map for your site!
birthdays.24bps.com/user/drago…
">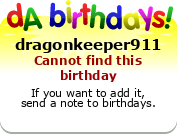 Don't click here!
╔═══════════════ ೋღ☃ღೋ ════════════════╗
☼ Every step I take a four-legged shadow follows behind ☼
╚═══════════════ ೋღ☃ღೋ ════════════════╝
Current Residence: Australia
Print preference: Colour (obviously)
Favourite genre of music: Rock, orchestral, electronic... whatever takes my fancy
Favourite style of art: Fantasy, cartoon
Operating System: Windows 8
MP3 player of choice: Phone
Shell of choice: Sea shell?
Wallpaper of choice: Pfff, whatever I'm interested in at the time
Skin of choice: Scales, fur, feathers.
Favourite cartoon character: Hmmm... Scooby-Doo.
Personal Quote: wait what
:thumb333728277:
Why can't weeee be friends?