1K Favourites
71 Comments
16K Views
Mezunown
(M-Mewtwo-Y/Zoroark/Unown)
Psychic/Dark
Classification:
M. A. S. T. E. R. FUSEmon (Master Admin System Temporal Executing Reality)
Client:

Special Ability:
Master Unit
"Pokemon receives any stat changes made by ally Pokemon."
-Example: U-Raimag used Nasty Plot! Special attack increased! Mezunown's Special Attack also increased!
-Note: Negative stat decreases are also received.
Signature Move:
Security Breach
Category: Special
Type: Psychic
Power: 80
Accuracy: --%
PP: 5
"An alarming wail erupts from the Pokemon, lowering both its and all opposing Pokemon's stats by one stage."
-Note #1: Hits multiple targets in double/triple battles.
----------------------------------------------------------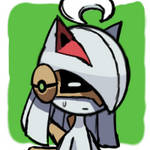 "The mastermind of Mirra B.'s internal security force. Mezunown has full control over all other units (G. U. N., S. W. O. R. D., and S. T. A. R.), able to control their attack patterns with a single flick of its wrist. It protects Mirra's greatest asset, allegedly some kind of DNA production machine. Should someone attempt to steal it, Mezunown will bring the entire area down along with it, no hesitation. This ironclad loyalty and combined firepower proves to be Mirra's best line of defense yet... though, Siljavia thinks this may be a bit overkill. Nonetheless, Siljavia received praise that week."

――M. A. S. T. E. R. Guide #4 (FINAL)
Commissioned by
Zirocoh
. Leader of the Mirra's internal security force, Mezunown! Enjoy.~
----------------------------------------------------------
Mezunown © Dragonith
IMAGE DETAILS
Image size
1200x889px 1001.72 KB