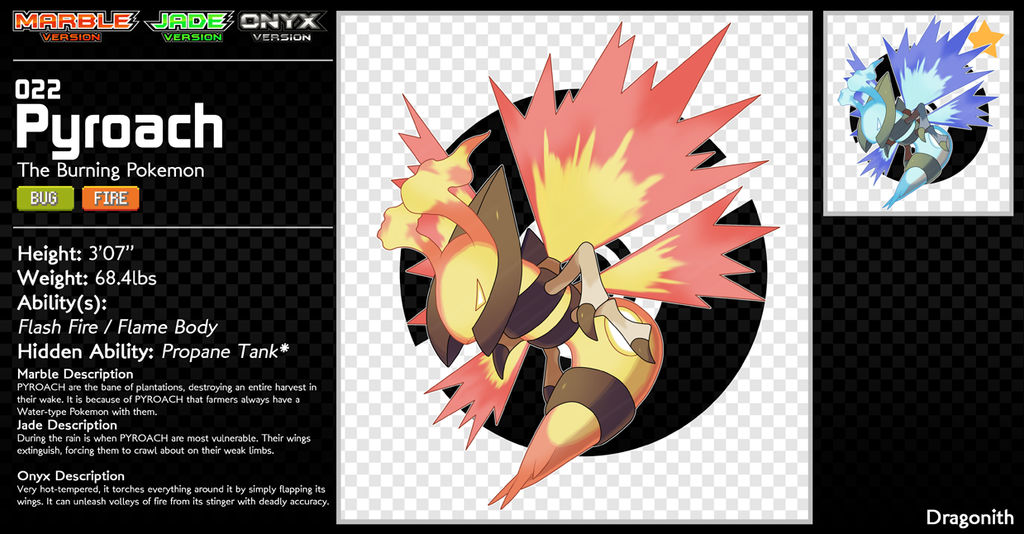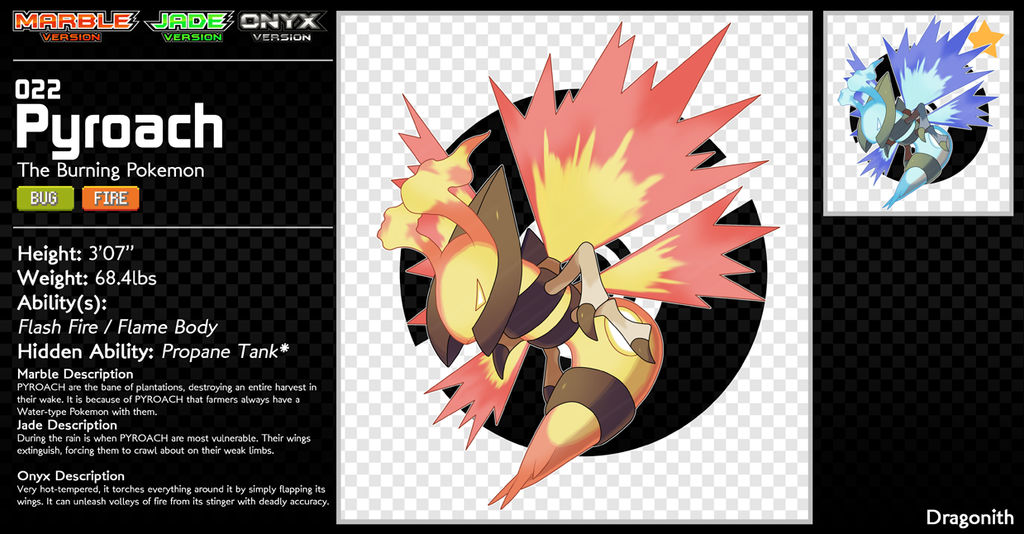 =====Evolution Chart=====
►►
LVL 14
►►
►►
LVL 25
►►
Origin of Name:
Pyro+Roach= Pyroach.
Based on:
A hornet.
BST:
60/85/65/110/60/105 = 485
*Gives full immunity to all Ground-type moves until hit by a Water-type move.
-Note: Rain also causes the ability to fail. The ability reactivates when the sun is out, and prevents the user from falling from Water-type damage so long as the weather stays this way. If the user switches in and out, the ability resets as well.
*New Move: Wildfire
Category: Special
Type: Fire
Power: 120
PP: 10
Accuracy: 100%
The user releases flames in an uncontrollable fury for two to three turns. It then becomes confused, however.
=============================
EDIT(09/09/14): BST edited.EDIT#2: Added BST provided by

!EDIT(09/07/14): New display template and design!
Another long overdue evolution! Pyroach is back with a vengeance!
I have no idea why I thought the last design wasn't cluttered to hell with details. The redesign removed a majority of those unnecessary details and turned it into a simpler design, much with its pre-evolutions' new designs. Originally I was going to add some stinger elements to its abdomen and head from this sketch sheet provided to me by
UltraPsychic
a year ago, but couldn't really integrate them to my satisfaction. So that was scrapped in the final design.
Still, thanks for taking your time to provide some sketch ideas, man!
Pyroach can be compared to its similarly typed brother, Volcorona. While Volcorona hits like a nuke when it comes to the special offensive, Pyroach here can function a little differently. Instead of simply relying on raw firepower alone, Pyroach can go mixed as well. Its attack stat isn't completely useless likes its moth friend here, and can put it to use effectively. X-Scissor for STAB, or maybe even Flare Blitz if you'd prefer over Fire Blast/Wildfire? Should you had the patience for its previous stage, Catacoal, expect to see some Explosion force in your arsenal too. If you don't decide to go mixed (not everyone likes spontaneous combusting insects apparently), its special attack while not as godly as Volcarona's still packs a wallop! Its hidden ability allows Pyroach to evade all forms of Ground-type attacks so long as it avoids getting hit with Water-type attacks (or if rain's up). Even then, its defenses aren't exactly its strong suit. So if it starts raining, you can be an arsonist another day! Protect your crops, cuz Pyroach is merciless when it comes to harvest time!
Previous Version:
fc02.deviantart.net/fs71/f/201…
Old Version #1:
fav.me/d2hunh3
Old Version #2:
fav.me/d2se8a8
_________________________
Pyroach © Dragonith
Pokemon © Nintendo