Back on the saddle and time for a small summary of my vacations. I've been out for half of March and catching up after returning from a 2 steps vacation.
Thursday 15:
Left in the morning and drove to Toronto.
Halfway, I picked Koto, then headed to the hotel. The ride went smoothly, but upon checking in, I discovered that the hotel messed up and rather than getting 2 double bed, we had one King. Worse, it seem a LOT of other persons were in the same situation. After arguing a bit, we were giving a partial refund AND a bigger room with a roll-in bed. Thankfully, I had brought an inflatable mattress and extra linen. Next stop was the airport where I picked Pyke before heading back to the hotel. That done, I went to

Cataena's place to pick her, along with

K-Libra and

Cheasy Dino and headed back to the hotel. She was generous enough to give me some of her old dragon for my hoard... I mean collection.
Last stop was to head back to Cat's place, leave my trailer for the convention time, then stop by the coach terminal to pick up

BushyCat. She had some issues with customs and hoped she would be able to solve them during the convention. With all that pooling down, I could head back to the hotel, grab my badge, and headed with the group to a small Japanese restaurant.

Friday 16:
I woke up well rested. Because of the room situation, nobody could really unpack. We therefor went to the opening ceremony and afterward, did a quick tour of the dealers' den. After a quick tour, I went to the lobby and checked to have the room we reserved. A double bed was available, so I notified Cataena. We moved all our stuff to the new room. We could now have all our masks and gears on display! Afterward, we went to the food court to get lunch. Back at the hotel room, it was time to dress up.
Since last convention, I got convinced to get myself a suit, a partial one mind you. I never been a fan of fursuit. For me, convention dressing should be like cos play, or persona play. Therefor, it should look GOOD. Mascot, super deformed, all fluffy with huge eyes fursuits always felt silly for me and I never wanted to have that. And I'm even more strict regarding reptiles. I will NEVER have a fluffy reptile. When I was shown

Magpiebones, realistic partials, it was the kind I was looking for. And since I was really limited in term of choice of animals, I went with what she had in my range of bulky, big animals: a grizzly bear. In the making, I asked extra on the back of the mask to be able to simulate the bear hump. I took an old pant, a hold shirt and ripped it. I got helped by K-Libra and Cheasy to put the first setup. It looked great, with the hump, fur pouring out of the rip.
We wandered about, doing a few stop in the headless lounge. But I was happy to get positive feedbacks. By the end of the dealer's den hour, I had the following added to my sketchbooks:
A werewolf transformation
A garuda transformation
A chryssalid transformation
A bear transformation (m)
We ended the day with a transformation supper at Jack Astor.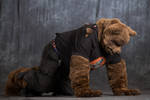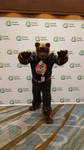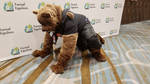 Saturday 17:
Saturday was a long and busy day. After putting my bear costume, I did a quick trip at the dealers' den then headed to Cheasy Dino's transformation panel. It was a nice and talkative panel with people telling their origin in the transformation world. Looking forward for next year's panel.
I undressed and killed time until the Furry Fiesta that replaced the parade. Got to say I would have liked to do a parade. I hope it will return next year. At the Fiesta, I was good for the Realistic, Bears and Paws photo booth. The realistic one was a mess. Some people with 'mascot' were allowed in. Really? For the bear shot, there were only three bears in the whole convention. Funny thing, we were a polar bear, a panda bear and I the grizzly bear... Sound familiar?

We tried to do a stack, but without proper support, it looked more funny than anything else. During the wait, I meet MathiasRat in his costume. He REALLY like my bear, loved the realism and as a transformation fan too, liked how it felt ... transformative. I was happy I was giving a good impression. The rest of the day went smoothly and by the dealers' den closing, I had those added:
A bear transformation
A bowser transformation
A scorpion transformation
A sheep transformation (m)
A bear transformation (m)
A dragonfly transformation
A hydra transformation
Sunday 18:
Sunday was a quiet day. Spent some time in the dealers' room. Took my bear suit to a new photo shoot, this time with the black shirt I used Saturday. Meet MathiasRat again and we talked a bit. He really loved the costume and is really torn between getting one too.
A the end of the day, I picked my sketchebooks for the last time, with those new sketches added:
A Dragoniade portrait
A dewdong transformation
A Dragoniade transformation (Dragon)
A Dragoniade portrait (Anthro)
An orca transformation
An Elite (Halo) transformation
We all attended the closing ceremony, then went to a Mandarin buffet. Cataena and K-Libra packed, and I drove them home, leaving me and Cheasy at the Hotel.

Monday 19:
The car pooling resumed. I first dropped BushyCat at the coach terminal, headed back to the hotel, picked Cheasy Dino, headed to Cataena's place. dropped Cheasy with them and picked my trailer, head back to the hotel, checkout and pick back Koto and Pyke. Of course, during checkout, I found out that the hotel forgot to apply the convention rate on parking... which they fixed after being told. Any occasion to squeeze extra money is a good one, right?

Tuesday and Wednesday 20/21:
Back to work for 2 quick post con day. Those are really not fun to go through. Took some time to start unpacking and repacking for my trip to Florida.

Thursday 22
Woke up early, loaded the car and headed to Plattsburgh. Smooth traffic and quick customs, thanks to Nexus. Flight was on time and comfortable. Upon arriving at St. Petersburg, the colder weather this year sure surprised me. We stop doing some errand, my parents looking for new furniture to add to their mobile home.
At the park, I was able to review the purchases I had delivered there.
First, I completely underestimated what a yard of fabric was... And I have plenty extra bear fabric to patch or even make a full padding. Bear Furs

Second, the men in brown at UPS are brown for a good reason. I had ordered a set of LED car light-bulbs. The box received was torn open, a big gash in it with tape stripes barely holding it. The LED box was damaged. That mean I had to order a replacement, since I have no guarantee the extra struggling of the box didn't damage the light bulb.
And finally, my raspberry pi + LCD screen had arrived. Those will be my next year badge to replace the aging one with the backup camera.

Friday 23
We spent the day doing some errant in the warmer weather. Picked myself a T-Mobile tourist kit, only to realize after you cannot call Canada with it. Not very convenient when your family all have Canadian phone number... Still, the Data and SMS were my main priority. Next time, I won't pick T-Mobile and will try another carrier. Roam Mobility seem promising. Gonna try them all until I find the one that over the best price for tourist. Closed my Bank of America account. Last summer, I opened a TD Bank account. They had better services and were less paranoia with their Canadian customers. I could get both a credit card (convenient for US services that requires a US credit card, like iTune) and a debit card without hassles. Last stop was at Room a Go where my parents found the modular sofa they were looking for. And contrarily to Ashley, they could deliver it the next day.
As I was starting this vacation summary on my laptop, it started to do random freeze. After 2 reboots, the SSD finally decided to died... on vacation. Great work Crucial. A SSD which was not even 1 year old. Thankfully, I had a spare hard drive, so I spent the next 2 evenings working on patching my laptop to get the basic working. And thanks to that, I couldn't work on the updates as I had lost all the tool necessary for it when the SSD died.

Saturday 24
With the new sofa arriving, I spent the day between moving old sofas around the park and the pool/spa . We also went to go pick the car U rented for the rest of the week. Turned out to be a Kia Soul. On the way there, I realized I was sightly too tall to ride a Slingshot. The small windshield draft just goes level with my ears, meaning constant blowing in my ears and adding a risk of head gear flying away.

Sunday 25
We went to the Flea Market where I bought myself two 3D lenticular dragon frames and a dragon incense burner. Finished the day at the park's pool and spa.

Monday 26
First day at the beach. In previous years, we were going to Treasure Island, but since they boosted their parking fee by I lot, we moved to Fort De Soto. The weather is sure messed up this year. 3 years ago, the water was warm and you could just jump in it without worries. This year, it felt like I was going in a summer pool here. Slow going and cold on entrance. Two dolphins swam by in the shallow water, more likely attracted by the fish bait used by show fishermen.

Tuesday 27
Each time I return in Florida for vacation, I usually spend a day at Sea World. I got to admit, this year was bad, for many reasons.
First, contrarily to previous years, when I was in Florida at the beginning of April, I ended up going right after Furnal Equinox, which is 2 weeks earlier. Sadly, it turned to to be right during Spring Break... I'll know better as this caused me to get stuck in crazy traffic in both Tampa and Orlando and to arrive 90 minutes after opening hours.

Second, most of the shows were booked due to Spring Break and you had to arrive 30-60 minutes to get a seat. And because I arrived late and some show conflicted with the 2 Encounters I booked, I couldn't go to most of them.
And lastly, I tried the new Killer Whale Up-Close Tour and it was bad. First, it cost more than the entry price. Second, all you get to do is take pictures with one of the orca behind the soak area glass. You arrive, you get to see 3 orca land on the pad. You take pictures. You get split in 3 groups: one per orca. You go to the soak area. You get a pep talk from the trainer, then individual picture get taken with the orca behind you. And if you can't have someone take pictures (and not be in the picture itself), then pay 70$ for the photo pass.
No back tour, no close encounter at all. With the Dolphin Up-Close Tour, you at least get to be close to the dolphin, touch them and interact with them. Between the dolphin nursery and the dolphin cove, I preferred the cove. I also miss the old Shamu Rocks show. Especially the night performance. Still, I got myself some souvenirs to bring back though. I was so tempted by that 20" double orca figures, but it was 80$.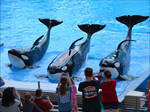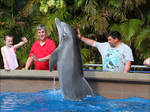 Wednesday 28
More beach time a Fort De Soto. This time, only a dolphin shown up and the tide was low enough we could cross to the rising shallow water across the beach.

Thursday 29
I went shopping for some summer clothes, drove around for more errand then returned the car to avoid risking paying late fee should we arrive late on Friday. Turn out it those fee would only have been like 3$ for being 2 hours late. I will know next time.

Friday 30
One last day at the beach. The day was really windy and there was a lot of waves, so spend most of the time dragon sun basking.

Saturday 31
It had rain during the night, so the day was cloudy and colder. I started packing, and preparing the UPS box for my damaged car headlights. Finished the vacation with a family supper at Cheddar's Scratch Kitchen.
Sunday 01
Early wake up (3:45) in order to be at the airport for 4:45. I flew back with my aunt, who decided to shorten her snow bird time by 3 weeks as she was starting to miss home and her family. Flight was smooth, though the landing was a bit shaky due to high wind. Drove home and we waited for my uncle to arrive to pick my aunt.


Monday 02
Rest and unpacking day.
Tuesday 03
Back to work and days of catching up at both work and personal works.



And now, time to resume working on that long due update.

More Furnal Equinox Werebear Pictures: photos.app.goo.gl/KBoc92PQiJxf…
More Sea World 2018 Pictures: photos.app.goo.gl/P6fByzkQmmDq…