Hi! I want to say welcome to my page, and I hope that you like my literature. My main fandom, as seen, is Pokemon although I have taken a liking to other fandoms. Please feel free to talk to me, I enjoy making new friends here on deviantArt.
dA Family

is the last fat rainbow farting unicorn that can puke pokeballs.

is the mentally unstable hedgehog.

is the little brother who loves penguins.

is the aunt that is a ramen eating hippo.

is the insane older sister who every day has a new character she tries to act like for the entire day.

is the french toast.

is the pet hermit crab.

is the human child that can turn into a baby panda with awesome ninja powaaz!

is the spoiled bottomless pit of food that drags you to wonderland and disguises herself to be that one random creeper that borrows bananas from Masq.

is the pet cat that is quite quirky and likes having lots of fun!

is the insane, psychopathic, pyromaniac tomboy sister who loves fire and beanies.

is the creepy, overexcited yet subtly awesome little sister.

is the reincarnated alligator from Saskatchewan who has a fetish for Smoothies of all species.

is the redneck Pichu half-brother from Uranus.

is the mail lady who is secretly a spy from the CIA who is also secretly a space traveler from plant AWESOME.

is the little sister with the creepy smile.

is the crazy tomboy/rouge who has awesome magical powers and can transform into any animal of her choice.

is the tsundere cocoa cup.

is the stabby tonberry with a mustache.

is the malteser obsesseed, tsundere, awesome Celebi.

is the long lost big brother who enjoys shooting things and writes Pokemon Romance fics like it's a dying trend.

is the Unworldly Tsundere Curled Up In A Dark Corner Keeping Herself Alive By Playing Pokemon On Her DS, Reading Fanfiction To Giggle/Weep About Her Feels Afterwards And Eating Happy Colas.

the crazy smart, Pokemon obsessive, little sister that annoys everyone by telling them random facts of the day at random times.
Stamps:

:thumb190418072: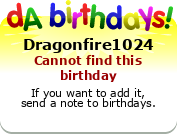 Favourite Visual Artist
Cherrypop146, Masqurade-Chan, and eV13il
Favourite Movies
Sherlock Holmes: Game of Shadows
Favourite Bands / Musical Artists
We the Kings, Marianas Trench, The Cab, Click Five, Simple Plan, All Time Low and (currently) Panic! at the Disco
Favourite Books
Kingdom Keepers and Sherlock Holmes
Favourite Writers
Ridley Pearson
Favourite Games
Pokemon White 2 and soon to be Pokemon X
Favourite Gaming Platform
Nintendo 3DS
Other Interests
Writing, gaming, and reading