I am a horrible person. I can't believe it took me this long to announce the winner. I'm so sorry guys!
Ok, so I know this is roughly 6 months late, again, I'm very sorry for the delay, but today I will finally announce the winner of the Sumer Sun and Fun Contest!
Congratulations
Slykins
for your winning piece!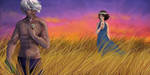 As promised 1,000 points have been sent to you and your work will be on display in the Featured folder for 1 month, or until I remember to take it down.
Thank you guys for being patient with me and I can;t thank you enough for joining the group and helping it grow to where we are today.