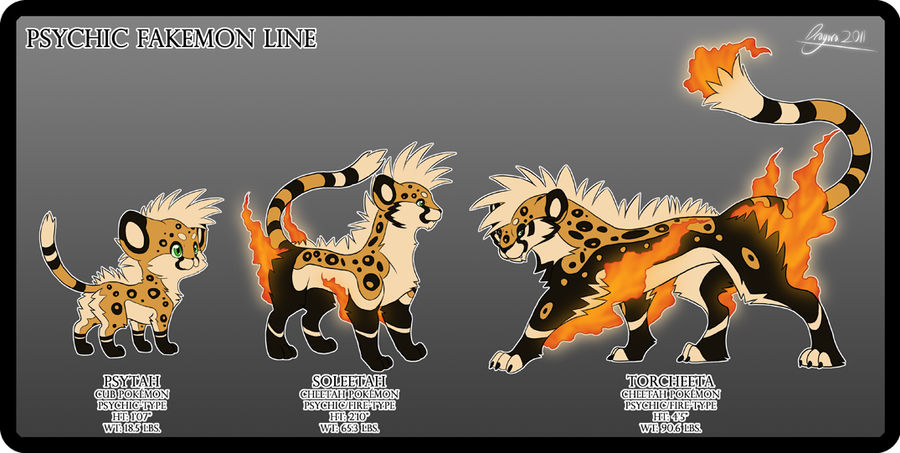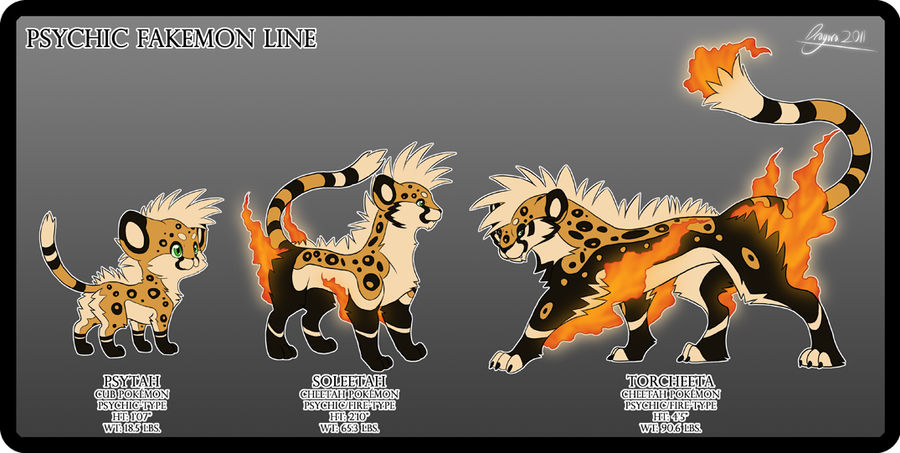 Watch
This is part of my entry for

's contest where one has to create their own evil Pokemon gang. I joined because I thought it looked fun. :3
So another part of the contest was that you had to come up with two Fakemon lines associated with you team. This is one of them.
They are a series of Psychic/Fire-Type (excluding Psytah, which is just a Psychic-Type) sun-related cheetahs with epic mohawks because giving something a mohawk instantly makes it unfathomably awesome-tastic.
It's also partially rooted in fact, since baby cheetahs actually do have mohawks.
Yeah, I realize that I'm terrible at coming up with good names for my Fakemon. Now, Torcheeta is awesome if I do say so myself, but the other two were just basic attempts at coming up with something acceptable because I couldn't think of anything better.
Psytah
Name Origin-Psychic+Cheetah
Type-Psychic
Ht-1'7"
Wt-18.5 lbs.
Species-Cub Pokemon
Pokedex-These small cub Pokemon are very fast, but also fragile. They rely on their Psychic abilities to fend off attackers.
Ability-Run Away
Soleetah
Name Origin-Sol/Solar+Cheetah
Type-Psychic/Fire
Ht-2'10"
Wt-65.3 lbs.
Species-Cheetah Pokemon
Pokedex-Soleetah are often found basking in the warmth of the sun. When in danger, they increase the size of their flames to frighten enemies.
Ability-Intimidate
Torcheeta
Name Origin-Torch+Cheetah
Type-Psychic/Fire
Ht-4'05"
Wt-90.6
Species-Cheetah Pokemon
Pokedex-These Pokemon have a tail tipped with a torch, and it is often used as a weapon in battle. Their desperation move involves setting their bodies on fire and tackling enemies.
Ability-Intimidate
These guys learn typical speed-related and Fire- and Psychic-Type moves like Quick Attack, Confusion, Psychic, Ember, and Flamethrower. Torcheeta is capable of learning Flare Blitz and Extremespeed. They are capable of using Flash and Strength.
Females have smaller mohawks than the males, and the Shinies are blue instead of gold. The flames are cyan, and the eyes are gold.
Team Twilight-
My Other Fakemon Line-
The Shiny Versions of This Line-
Pokemon (C) Nintendo
Art, Fakemon (C) Me