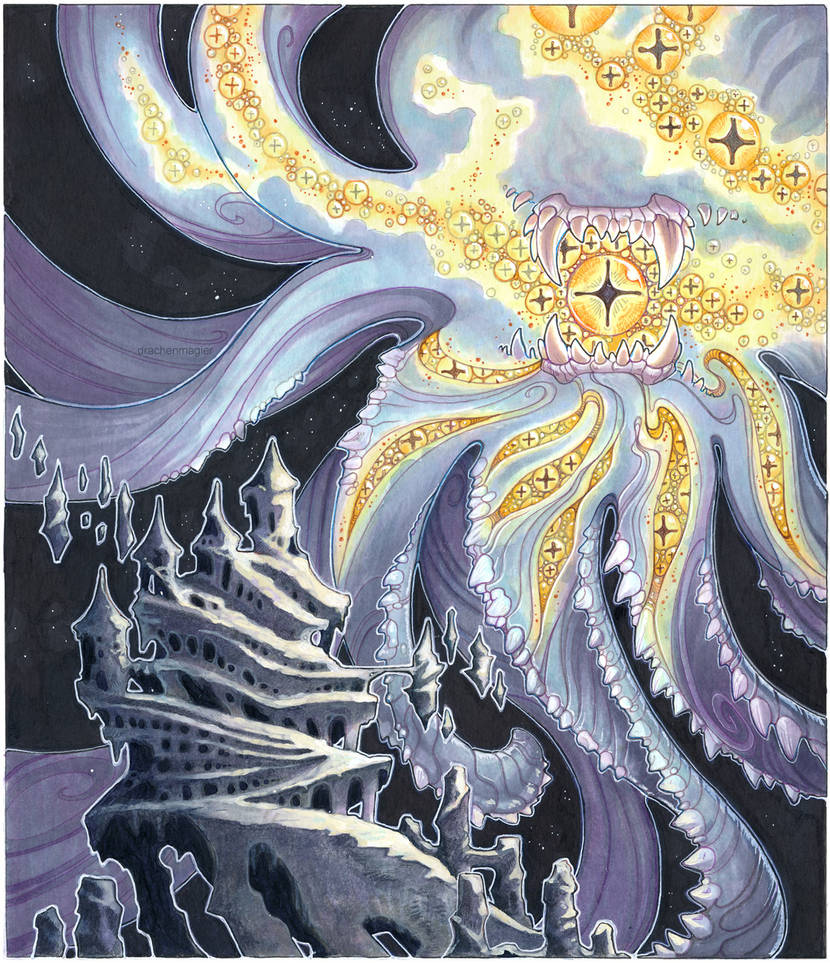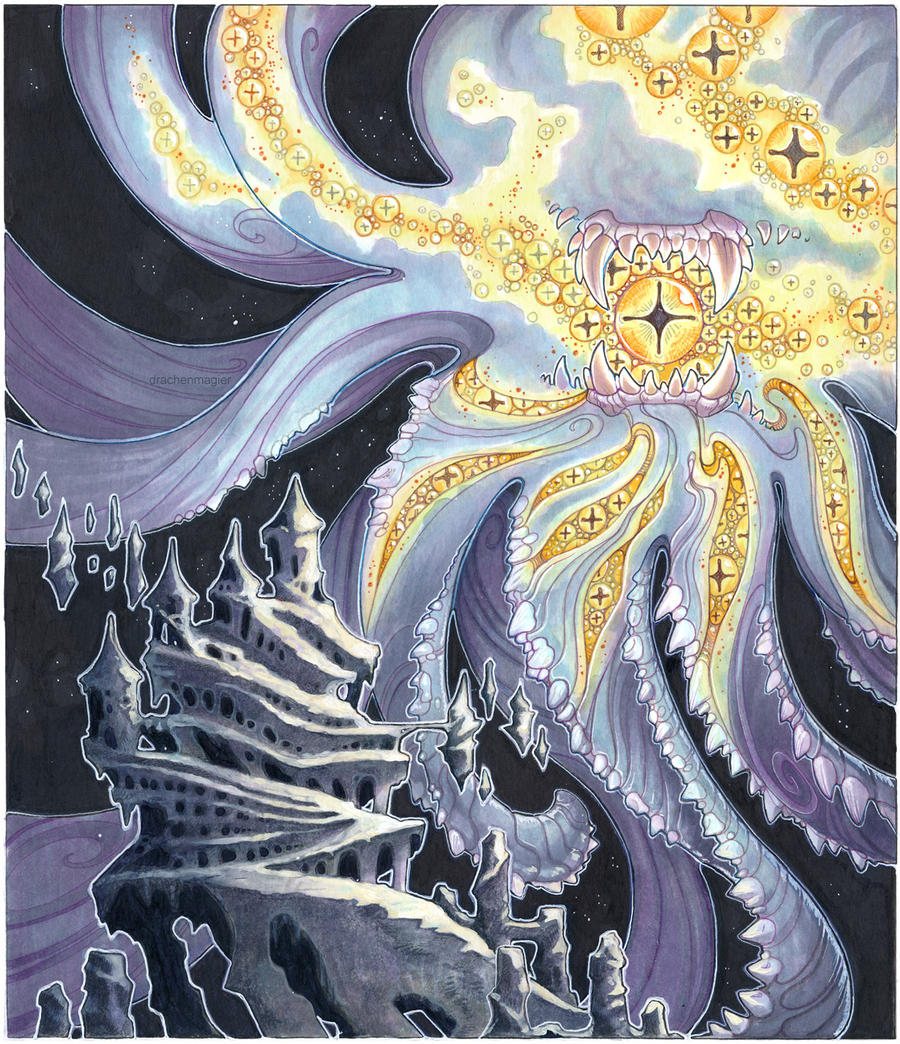 Watch
"The Thousand Eyed God had been banned to the heavens three eternities ago. It is thanks to this eternal creature that wishes for nothing, only hungers and hunts, that our reality is stable. We call it "The Observer Effect"."
Traditional media, mostly watercolours and markers with a bit of acrylics. I had planned some more things, but I ran out of patience. I guess that happens even to me.

And lots of
Beast in Black
while drawing and colouring.
Multiplicity in repetition, you got it down perfectly!
The mind can freely roam without danger of unpleasant surprises, watching forever the many worlds than come out of this dimensional rift.
He is a great god who touches the edge of our realm so very lightly, in a form that may first manifest as teeth and skin, but opens radiantly to those who dare to look more deeply.
Then to him who boldly agrees to all his implications the god once again manifests his radiance back into a perceptible form that is terrifying, as implied here by the maw.
We are witnessing the moment of inescapable revelation.
good job
The Artist thought this was FAIR
15 out of 15 deviants thought this was fair.
Reminds me of Cthulhu and a Final Boss monster you would fight in a mainstream Final Fantasy game. (The latter being an especial good thing. :])

All in all, I think it represents an unseen deity, filled with corrupt power as it lurks behind the scenes, watching over and manipulating both everything and again especially everyone that it gazes upon with it's thousand eyes.

Deities like to revere themselves and I think this creature in particular speaks out about how "almighty" it is, demanding that all it looks upon worship it with unconditional reverence (not in a good way mind you :[).

The tower could represent the last line of aspiring heroes rising up to fight against the thousand eyes, determined to take their destiny back into their hands and no longer worship deities that would callously not think about others otherwise.

As for the Review itself...it's pure awesome, no questions there. A previous Reviewer said that this was perfect. I'll be honest, I was sceptical but in the very end, I am pleasantly surprised to say myself that it truly is perfect. It's got everything going down for it and I hope to see the same kind of quality that you have given this art piece in future works of yours. :]
The Artist thought this was FAIR
3 out of 3 deviants thought this was fair.