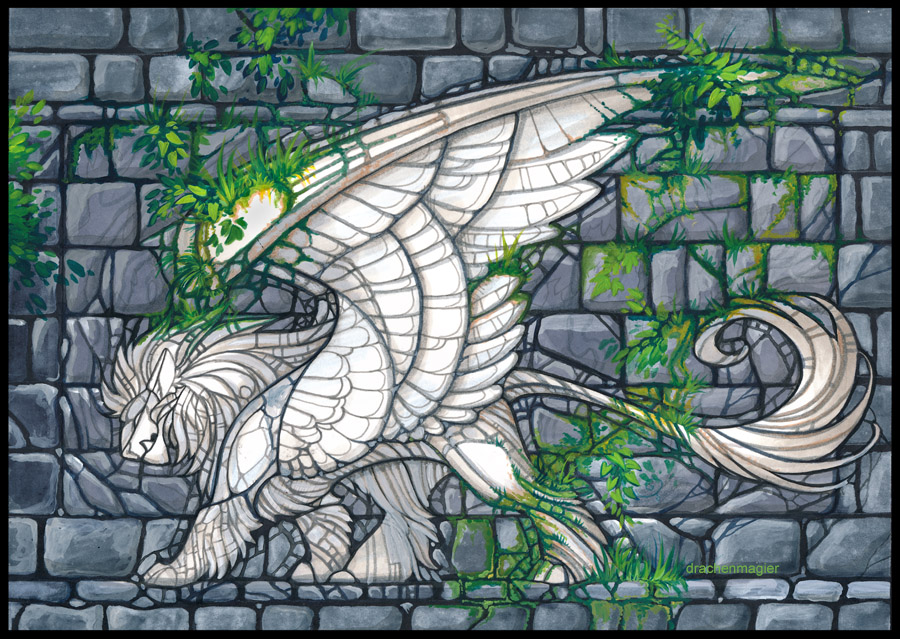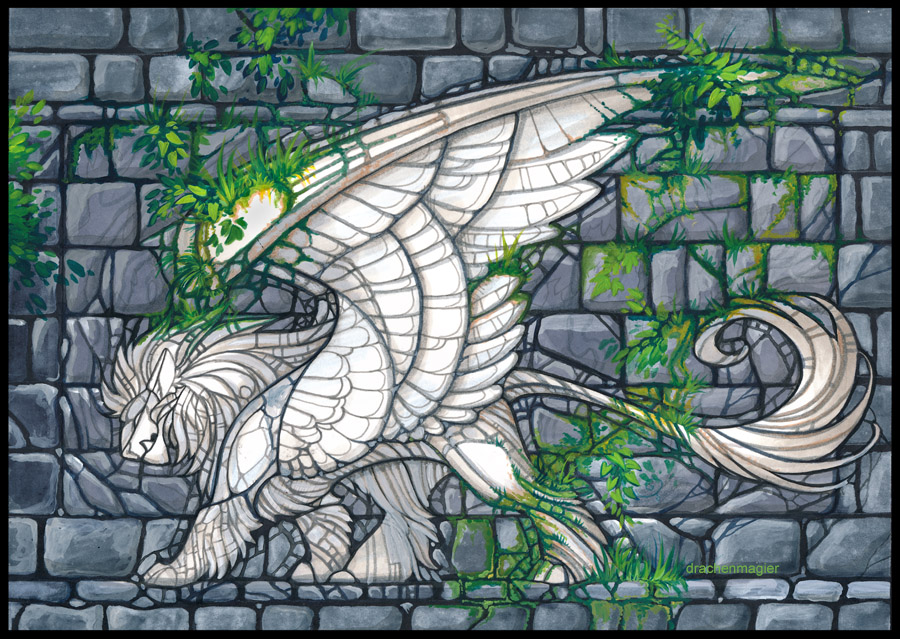 Watch
A bit of a colour experiment.

Acrylics on A4 mixed media paper.

I was asked by a lot of people if I would take similar commissions. And yes, sure. It's fun to turn a drawing into a wall.



I was mostly listening to the OST of Episode Ignis during painting. I adore the violin part that sets in at 1.20~!

the ancient mosaic

I can dive so deep into the details of this the satisfaction tickles me.

Let me start with the creature, since it's the most obvious indulgence:
We know you do wings very well, but there is novelty in this one I can't quite grab hold of.
Maybe it's because the lion sits flat on the wall and therefore the seperation of layers you achieve with your outlines comes across more naturally.

The hero of this painting is the greenery.
From a painters point of view anyway, because there is natural switching through contrasts without a noticable split.
Warm and cold is most prevalent here, as is sharp and soft.
I find myself scanning through the growth and how you placed each leaf so precisely.

Only the wall seems to be bothering me, because of lack of variation in shade.
Maybe a soft liquid wash with different hues of red and ocre, just to drive some parts into background.
The lion would have received greater significance also.
As it stands the most dimensional part is the tip of the wing.

Very nice
The Artist thought this was FAIR
16 out of 17 deviants thought this was fair.
In my opinion the drawing is EXCELLENT, THE BEST DRAWING THAT I HAVE SEEN IN MY LIFE CONTINUES AND NEVER GIVES YOU I KNOW THAT YOU CAN WRAP AROUND THE WORLD WITH YOUR BEAUTIFUL ART and good the details of the shading is very good the lighting the whole color is ta very good and the effect that of the grass is astonishment you are the best artist! And the shadows of the stones is great! and I repeat it and I repeat it again ... esque I can not stop saying it YOU ARE THE BEST ARTIST AND I REPEAT IT AND I WILL FOLLOW YOU REPEATING FOR ALL ETERNITY



(I love your drawings continues like this: D)
The Artist thought this was FAIR
6 out of 6 deviants thought this was fair.