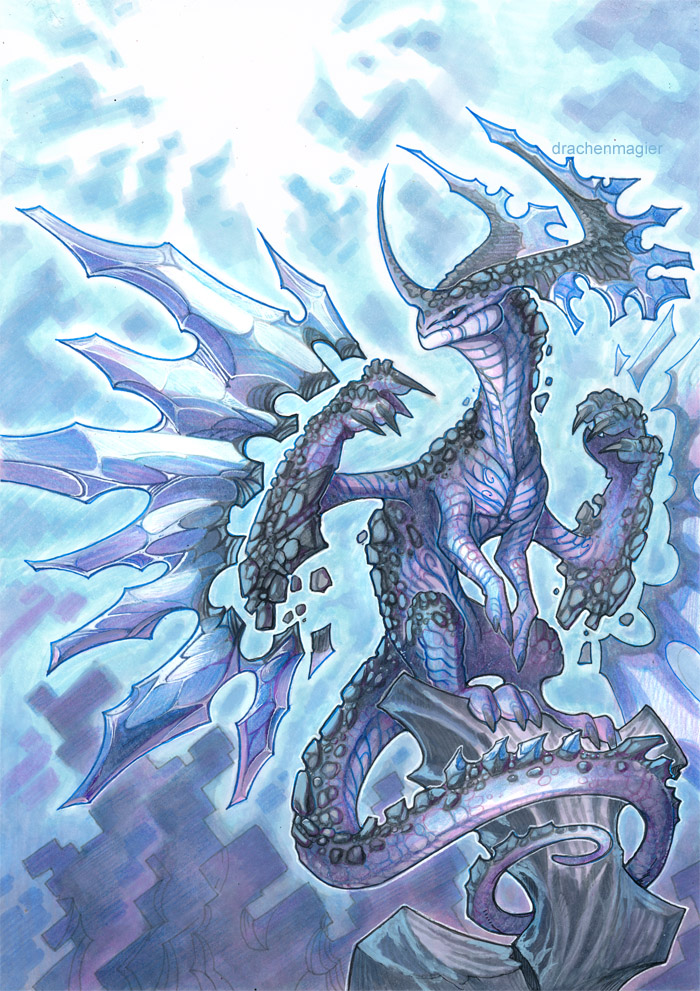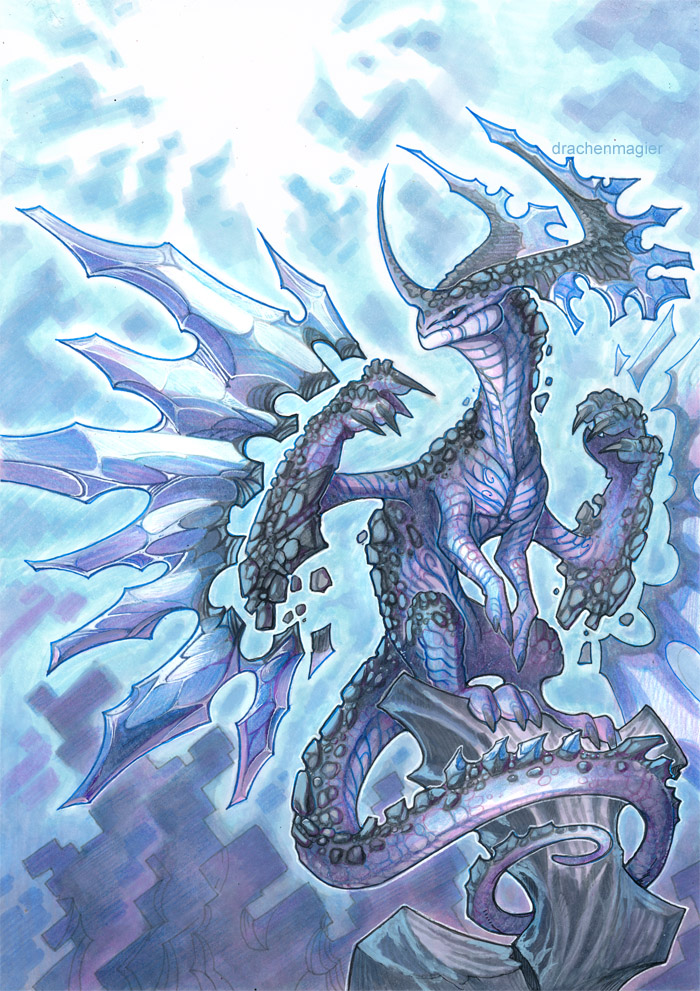 Watch
I'm REALLY getting the hang of digital now! : D
j/k, this one is 100% traditional, mixed media on A4 bristol paper.

Crystals and dragons just mix really well~.
Plus, listening to
some metal
that fits the theme.

This drawing seems powerful. I just like traditionnal art, it looks like traditionnal art but I don't know if it's really traditionnal art. Those colors, that is to say : blue, purple, black and white makes me wonder. The blue color symbolie for me the calm, the serenity and the coldness that reigns in this drawing. The purple color symbolize the magic side of this drawing. And the black and white color make the balnce. It's incredible that it symbolize serenity but the dragon in question is preparing to attack. It's calm, violent and poetic at the same time. I love it! 18 stars out of 20 that's not nothing!
The Artist thought this was FAIR
9 out of 11 deviants thought this was fair.
*sigh* I've said it before: your blue-purple works are amazing. However, this one takes the cake its uniquely beautiful design.

My first impression is how it not only has that color combo, but also has a beautiful arrangement of shining "wings", limbs in different directions, and a crown, all under a bright sky. As I look closer, I realize that the wings held by who-knows what and that this creature has four arms with dark scales. These are odd but interesting choices, and causes me to think of is creature as not a dragon, but something different. Semantics aside, I also like how the tail curls around that rock, which has its own curved carvings. I suppose the creature looks rather confident having all those limbs and smiling smugly.

What confuses me is the background at the bottom. While the dark bricks actually have a nice pattern and remind me of that jellyfish city piece I critiqued, I wonder what they're doing here as they don't match the rock or and have an odd angle to be the setting. This makes me ask what the setting is, so it might have been better to leave it out. I also see pencil lines that seem to barely imply oher rocks. But aside from those two, the rest of your uncommon design choices have made a beautifully unique fantasy.
The Artist thought this was FAIR
6 out of 6 deviants thought this was fair.