30 Favourites
2 Comments
32 Views
I want to get back into drawing a little more, i do
It just takes a lot to get motivated, an idea, and my gigantic tablet set up |'D
That said, here's a little doodle of my new lil blue boy I got from

8D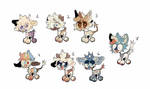 #7 from this sheet ^^
PLEASE GO CHECK THEM OUT, THEIR UNIQUE STYLE AND AwESOME DESIGNS ARE WORTH THE LOOK!!!
Thanks to those who take a look at my art, means a lot |D just a little more reason why i continue to do it for fun ♥
I'm thinking of perhaps starting to do some random sketch gifts/requests SOON, but once I start working full-time in the next few days, that limits me a smidge. but wont stop me.
cant stop wont stop
IMAGE DETAILS
Image size
586x698px 172.53 KB

is it fun to know i almost bought that one as well
SKJFKSJFKS HE LOOKS SUPER CUTE!!