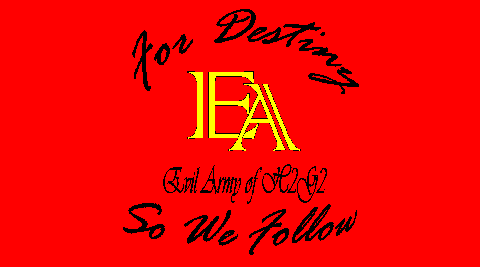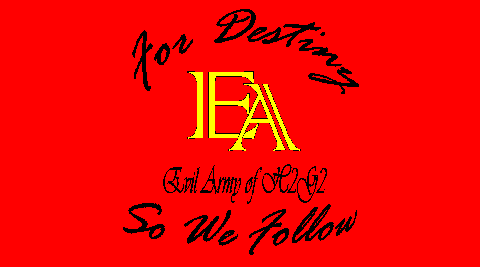 Watch
This is the flag for an online society on h2g2 know as The Evil Army of H2G2. It's led by Bocaj Claw aka EvilClaw and I'm second in command. The society is fully of people as loony as the two of us and we divide our time between random talk and craziness and invading other societies in wars in which we employ a wide variety of weapons that have acronyms for names and that ususaly involve sticky or discusting substances. We, as well as our members, command an army of instant soldiers known as LARDWARRIARS (Large Always Ready Devious Warriors Accessorized Robotically Resourceful In Action-packed Repetitive Sequels), EVILMINIONS (Evil Villainous Industrial-strength Large Minions Ingaging Numerously In Overwhelmingly Numerous
Sections), and DESTINY MINIONS (Destructive Energetic Soldiers That Instinctively Note Yon Master Idea and Numerously Invade in Overwhelming Numbers Successfully).
---------------------
The h2g2 website:
[link]
The Evil Army of H2G2 site:
[link]
Bocaj Claw's space/Army of Evil webcomic:
[link]

By the way: wasn't the top line: For Destiny Dictates?
Reply

...yea...but it didn't fit or something...or maybe I just forgot to stick the rest of it...
Reply

I'm leaning towards forgot.
Reply

yea...me too...I'm uploading the SLUGS REBS pic as we speak...
Reply

Reply

and I'm just about done with the lardwarriars but I don't really like how they look...you'll probably have to do some work on the picture to make it look good before you draw them in the comic...
Reply

I've only ever thought of them as a amorphous layer of something (possibly nanobots) over a simple mechanical skeleton. And as the instant warrior upgrades go on Evilminions then destinyminnions, less and less mechanical foundation and more and more flexibility from the liquid-y stuff.
Reply

You forgot to be mentioning the Evil Army comic. Much shame be heaped upon you! Many many moons ago!
Reply

...no...you're hallucinagenic...mostly due to all of those hallucinagins that you took...anywho...it's there...now...BWAKAWAKAWAKA
Reply