If you enjoyed my original Simplify Cursors, then you'll love this fresh new remake! This time the cursors have a nice balanced size, ideal on any screen, and they also come in both Light and Dark color schemes.
So I really hope you enjoy these babies because I put a lot of effort into them!
And if you want to support my work, please consider getting them at
gumroad.com/l/kepBv
WHAT YOU GET
2 awesome mouse cursors schemes (Light and Dark)
HiDPi compatibility
HOW TO
after unpacking the archive, navigate to each folder and find the _install.inf file
Right Click on the _install.inf file and select Install from the Right Click Menu
now just go to Control Panel > Mouse > Pointers and from the Scheme drop-down menu choose the new Cursor scheme installed
make sure the option "Enable pointer shadow" is disabled since the cursors have their own shadow baked in
and finally hit Apply or Ok and you're good to go!
For a sleek desktop experience, pair the cursors with one of my
Windows 10 Themes
, especially my...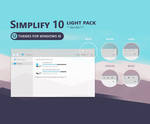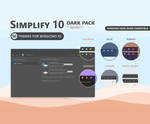 ENJOY!