UPDATE 2020.02:
made the skin compatible with the latest version of PotPlayer which made the progress bar really small and unusable. Now with a few tweaks, everything works fine.
A clean and minimalistic PotPlayer Skin to match my
Simplify 10 Light - Windows 10 Theme Pack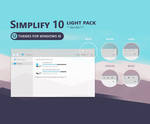 HOW TO:
copy the .dsf file inside the archive to your PotPlayer\Skins folder (which usually is c:\Program Files\Daum\PotPlayer\Skins)
open PotPlayer, then right-click on the player window, then go to Skins and select the newly installed skin
SECRET COMMANDS:
Right Click on the Play/Pause button: Stop Playback
Right Click on the Current Time: Play Previous item
Right Click on the Total Time: Play Next item
ENJOY!