Hey guys... I'm bringing your again another updated theme:
Simplify 10 Light Circles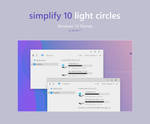 Here as well, the main focus was to improve the UI for HIDPI displays while fixing some consistency issues with some of the elements.
But that's not all of course! Now, the theme comes in two flavors: Simplify 10 Light Circles Gray and Simplify 10 Light
Circles Clean
. The Clean variation gives the UI a bit more contrast and introduces rounded corners on various elements to make them look awesome, as you can see in the screenshot above.
So what are you waiting for!? Get the updated version using the same download link you used before for either the Simplify 10 Light - Windows 10 Theme Pack or the Simplify 10 Light Micro theme.
Well, I really hope you like this one, and I'll catch you on the next update.


Wallpaper used in the shot:
Wanderer Wallpaper 5120x2880px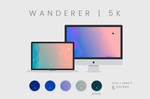 ENJOY!



Image details
Image size
1366x768px 875.39 KB