UPDATES
• modified the titlebar color of Simplify Light Blue Clean
• changed the alignment of the caption buttons to improve touch screen usability and match the Curtains Styles
• improved the window shadows to better differentiate overlapping windows
Get the entire
Simplify 10 Light - Windows 10 Theme Pack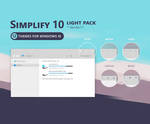 NOTE
Yes, this is a paid theme because themes aren't magically created out of nothing; they take a lot of time and effort and I would really appreciate your support

Anyway, you get an awesome pack of Windows Themes for only $2.99 here
gum.co/FvfEg
which is less than a slice of pizza; or you can ask for a free download link in the comments section.
Thank you for your understanding!
DESCRIPTION
An elegant and minimalistic set of Windows 10 Themes that are easy on the eyes, helping you increase your desktop productivity. So I hope you really enjoy using them just as much as I enjoyed the creative process 😊
COMPATIBILITY
• Windows 10 v.21H1 (May 2021 Update)
• Windows 10 v.20H2 (October 2020 Update)
• Windows 10 v.2004 (May 2020 Update)
• Windows 10 v.1909 (November 2019 Update)
• Windows 10 v.1903 (May 2019 Update)


WHAT YOU GET
• 4 awesome Windows themes • HiDPi ready up to 250% scaling • free updates • unlimited support!
• detailed instructions including my email address in case you need any help with the installation process.

MATCHING EXTRAS
• Wallpapers • Firefox Theme • PotPlayer Skin • Windows Cursors • Curtains Styles

HOW TO
• please follow the HOW-TO GUIDE so you can enjoy the full theming experience!

ENJOY!





Also, please check out my Simplify 10 Dark - Windows 10 Theme Pack