Get the entire Simplify 10 Dark - Windows 10 Theme Pack:
here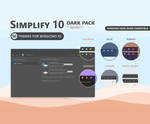 NOTE
Yes, this is a paid theme because themes aren't magically created out of nothing; they take a lot of time and effort and I would really appreciate your support

Anyway, you get an awesome pack of Windows Themes for only $2.99 here
gum.co/BarZm
which is less than a slice of pizza; or you can ask for a free download link in the comments section.
Thank you for your understanding!
DESCRIPTION
An elegant and minimalistic set of Windows themes that don't get in the way of your productivity and will make you enjoy using your PC once again.
COMPATIBILITY
• Windows 10 v.2004 (May 2020 Update)
• Windows 10 v.1909 (November 2019 Update)
• Windows 10 v.1903 (May 2019 Update)


WHAT YOU GET
• 8 awesome Windows themes • HiDPi ready up to 250% scaling • free updates • unlimited support!
• detailed instructions including my email address in case you need any help with the installation process.

MATCHING EXTRAS
• Wallpapers • Firefox Theme • PotPlayer Skin • Windows Cursors

HOW TO
• create a Restore Point using System Restore (safety first).
• patch Windows so you can use 3rd party themes by installing UltraUXThemePatcher. Make sure you run the installer as admin and follow the on-screen instructions. After you restart your Windows run the patcher again to check if all the 3 DLL files are patched. If the files are not patched then look for the DLLs in C:\Windows\System32 and take ownership of the unpatched DLLs using this Context Menu Registry Hack. After this is done, run the patcher again as admin and now you should be good to go!
If the UltraUXThemePatcher still doesn't manage to patch the required files, try the SecureUxTheme Patcher.
• install the themes by copying the content of the Theme folder to "C:\Windows\Resources\Themes\".
• apply the desired theme: right click on the desktop > Personalize > Themes > Change theme > Click on the theme you would like to use.
• apply the registry settings by double clicking the relevant .REG file in the Window Metrics folder. These are some registry values that make the theme look right (details like the scrollbar width, window frame padding, etc.). You can always revert back to the default windows metrics values by running the windows10_default_window_metrics.reg file.
• install OldNewExplorer and enable only the following settings:
✔ Use classical drive grouping in This PC
✔ Use libraries; hide folders from This PC
✔ Use command bar instead of Ribbon
✔ Hide caption text in File Explorer windows
✔ Hide caption icon in File Explorer windows
✔ Hide Up (go to parent folder) button
• restart Windows and... enjoy!
• Fix for Chrome and the new Edge browser (titlebar and caption buttons): Right Click the taskbar or desktop shortcut of the browser > Right Click the browser name > Properties and after "C:\Program Files (x86)\Google\Chrome\Application\chrome.exe" in the "Target" field, add --disable-windows10-custom-titlebar at the end and click Apply. Should look something like this: "C:\Program Files (x86)\Google\Chrome\Application\chrome.exe" --disable-windows10-custom-titlebar. Now start your browser using this shortcut and the titlebar and caption buttons will match your Windows theme.
• OPTIONAL: get a cleaner address bar: use Blank It to get rid of the dropdown arrow and the refresh icon in the address bar of Windows Explorer.
• OPTIONAL: narrow vertical taskbar: use 7+ Taskbar Tweaker. Right click on the tray icon>advanced settings and set the no_width_limit = 1.
• NOTE: before major Windows updates please switch to the default Windows theme and uninstall the UltraUXThemePatcher. Then wait for an updated version of both the theme and the UltraUXThemePatcher.


ENJOY!



Also, get the entire Simplify 10 Light Themes Pack for Windows 10