Deviation Actions
Daily Deviation
August 26, 2018
Maverick 10 Violet - Windows 10 Theme by
dpcdpc11
UPDATES
- Added a Dark version that's compatible with Windows Dark Mode. Enjoy!
GET THE ENTIRE
Maverick 10 - Windows 10 Theme Pack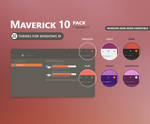 NOTE
Yes, this is a paid theme because themes aren't magically created out of nothing; they take a lot of time and effort and I would really appreciate your support

Anyway, you get an awesome pack of Windows Themes for only $2.99 here
gum.co/pgfj
which is less than a slice of pizza; or you can ask for a free download link in the comments section.
Thank you for your understanding!
DESCRIPTION
Since my last
Maverick 10 Dark - Windows 10 Theme
was such a success, I wanted to bring you another Maverick theme, but this time pairing the orange with violet. So I really hope you like it just as much as my other themes 😊
COMPATIBILITY
Check the compatible Windows versions HERE


WHAT YOU GET
• 2 awesome Windows themes • HiDPi ready up to 250% scaling • free updates • unlimited support!
• detailed instructions including my email address in case you need any help with the installation process.

MATCHING EXTRAS
• Wallpapers • Firefox Theme • PotPlayer Skin • Windows Cursors • Curtains Styles
HOW TO
• please follow the HOW-TO GUIDE so you can enjoy the full theming experience!

Check out also my other themes which I bet you'll like it as well:
Simplify 10 Light Themes Pack for Windows 10
Simplify 10 Dark - Windows 10 Theme Pack

ENJOY!