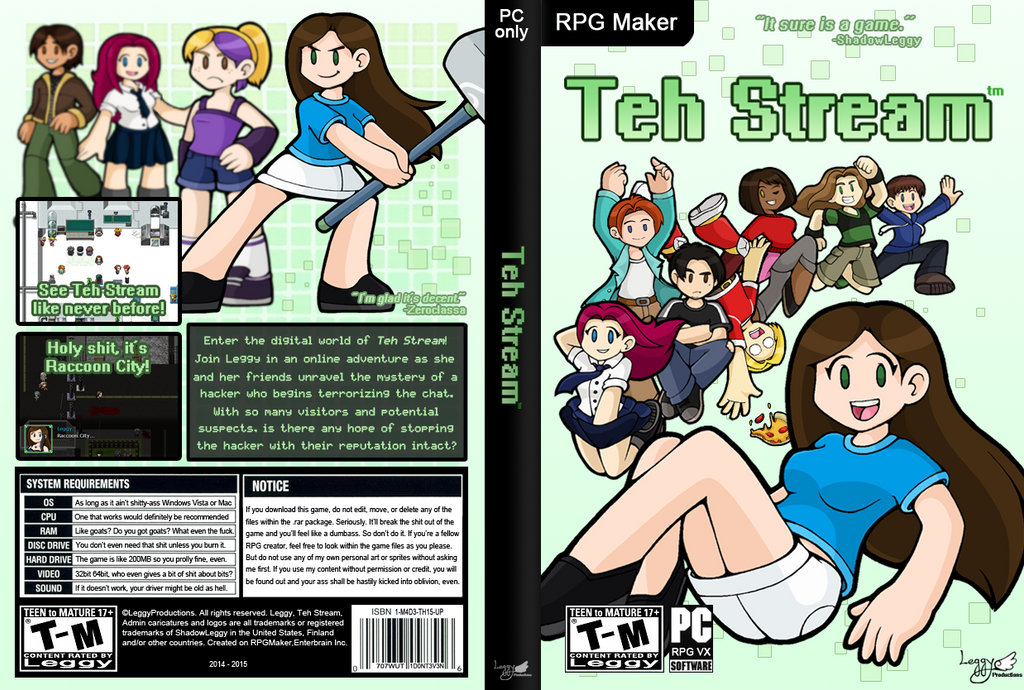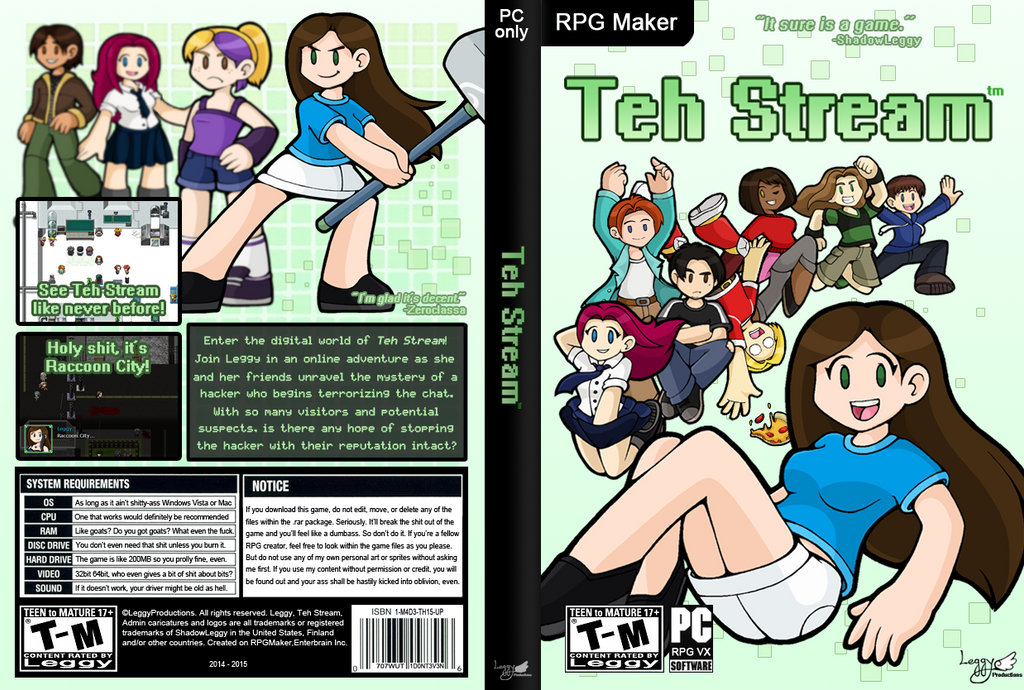 Watch
Download Links:

Teh Stream

Teh Stream Español
Other Media:

Animated Trailer

Teh Stream Website

Let's Plays
Enter the digital world of
Teh Stream
! Join the notorious animator
Leggy
as she explores the digital scape of her chatroom. Team up with friends, meet fans, and battle adversaries all while trying to unravel the mystery behind an ominous hacker... Who is this person? What do they want? With so many visitors and potential suspects, will Leggy and her friends be able to stop the hacker with their reputation intact?
To learn a little bit about Teh Stream's origins, check out the first 3 chapters of
Teh Stream Comic
Also be sure to check another side, another story, with Twizted_Chick in
Teh Stream: A Twizted Tale
This game is created with the RPG Maker VX Engine. It features seven main areas to explore, with an array of optional side-quests along the way. Teh Stream is populated with tons of unique characters, many of which you can choose how to interact with. These interactions can determine your reputation throughout the game, resulting in three different possible endings. Total time averages to about 3 ~ 4 hours of gameplay. Download is 213 MB.

Updates:
[For English version only until further notice]Edit I
• Español translation by
alinhoalisson
is available for download!
• Reduced lag and fixed floor images added to Console Warzone
• Graphical errors occurring in battles [death] have now been fixed
Edit II
• Various typos, mistakes, and other small errors have been fixed up
• Clarity has been added to certain events that left players a bit confused
• A potential game-breaking bug in Teh EXtream has been patched up
Edit III
• Some skills have been balanced out to be much less overpowered
• The action for the enemy ability "Slap" has been fixed to be neutral
• Possible graphical error in the Twizt and Trinity battle has been fixed
• Rewording of some early text has been made to give clear objectives
Edit IV
• Item Shops have been added to the majority of main area topics
• A Point prize has been added to the chest in the X-Box storage room
• Fixed a typo/duplicate name that appeared in the Console Warzone
Edit V - Urgent!
• The previous edit accidentally overwrote earlier fixes, causing some
past game-breaking errors to reappear. All of these errors have now
been fixed, thanks to
alinhoalisson
for finding and correcting the file.
If you downloaded this around
July of 2015
, please replace that file.

How to Install:
• Click the link at the top of the description
• You'll be directed to a Google Drive webpage
• Click "Download" - The time it takes may vary
• Google should be safe, but run a scan to be sure
• Once saved, the .rar needs to be extracted
• Once extracted, open "Teh Stream" folder
• Find the application called "Game" (horse icon)
• Just double click that and you should be in!
Important Note:
Do not tamper with any of the folders or files inside the main folder!
Doing so will cause game-breaking crashes among other technical errors.
If you wish to use the sprites or artwork I personally created, please provide credit to DoubleLeggy

I do not condone explicit nor commissioned content of my persona.

Artwork ©DoubleLeggy
As one of the play testers, I've gotten a unique chance to see the game grow from it's initial public demo from many moons ago, to it's final release here.

The game is brimming with a unique charm and atmosphere that almost anyone on who has used the net can relate to and enjoy. Those who are long time fans of Leggy will definitely get the most out of this game, but it should definitely be an enjoyable playthrough by non-fans too.

It's a solid RPG that goes for polished simplicity over chaotic extensiveness. Every element of the game has been given plenty of tender love and care to make sure that it is as good as it can be. Each character feels alive, and is memorable, from the villains to the protagonists, and it truly brings this game to life. The game also runs a choice/moral system that truly lets you experience characters from completely different view points depending on how you react to them. Without a doubt, there is high replayability here.

You won't have to worry about some traditional RPG elements like levelling up, juggling a billion spells, or random encounters, but that does not mean that the game is mindlessly easy either. With limited equipment management, and no grinding to make yourself stronger, and a small set list of spells, you must approach every battle with strategy in mind. It makes for a very compelling battle system, that always keeps you engaged, and the multitude of friends you might find at your side will always keep it fresh and exciting.

It's rare in this day and age that a game can just be so blatantly fun to play, usually there is something tedious about a game. Maybe its difficult, or theme, or controls, but Teh Stream never gets bogged down by the typical pitfalls that games usually do. It remains fun from start to finish, and there's always a reason to come back for more.

All of this gets wrapped up with Leggy's signature sense of humour, and it makes for a truly fun experience. The game never feels overwhelming, nor underwhelming, and it keeps you excited and motivated to move forward and advance the story.

Travelling from YouTube to Raccoon City and beyond, Teh Stream is a very enjoyable RPG that will undoubtedly leave lasting impressions. Solid 4/5 game without a doubt.

TL;DR Play the game, seriously, it's freakin' good.
The Artist thought this was FAIR
27 out of 27 deviants thought this was fair.
I was waiting with much anticipation for this game, and I beat it today. It was wonderful, well executed, and just downright a blast to play. The atmosphere is welcoming and exceptional with Leggy's charm and humor.

It isn't quick, but it isn't long. It seemed to be just that right amount of time you want to spend on a game. I was immersed in the game, and just unable to pull myself away for long periods of time. The story was definitely one I would play over and over again. It just is not boring in the least and isn't to much to handle either.

The characters don't lack any character depth. They are each unique and you can see if just with your first conversation with them.
Along with your interactions choices are going to be made. Either one leads to a different conversation or to a fight even.

Leveling up, grinding, and new spells when you would level. Things in a normal RPG aren't there. It took me getting to the second area and after a bit of fighting to figure this out. But that really does not mean it is easy or less enjoyable. You still need to be tactical in fights and pay attention to what is being done.

I really just need to state it was enjoyable. I will be recommending it to several of my friends, who have been wanting to see more of Leggy's creations. I give it a 4.5/5. I mean come on, don't most creations with Resident Evil included end with some form of explosion?
The Artist thought this was FAIR
10 out of 10 deviants thought this was fair.