On My Anger It Feeds Page 12
Description
FINALLY! I CAN SHOW YOU MY MASTERPIECE! I'm actually very proud of this page! Background aren't the thing i'm best at... So i'm proud to show you my hardwork! This is the entrance of the stormfactory, linked to the Silver's mansion.
Soul Silver (c) me (so does all the other characters here

)
Cast Bronze (c) Poker
C. Hurricane (c) Hasbro
Since it was asked by so many, i'll do a little extra about Soul Silver's scenario.
Here he is at Heart warming Eve, yet, he doesn't seem too pleased to spend time with his family.
And he is a bit confused about just happened in his mirror.
Soul Silver (c) me (so does Edgard

)
Pr
>>My Patreon:
You can support me here on my patreon for cool arts and some advantages like seeing work in progress and get some nice gifts :
www.patreon.com/Dormindrawingi…
Prologue : first page 1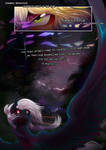 =>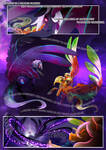 =>

soul does not really know how to show his emotions as he is vi-comte.
He was taught how to contain himself and to internalize.
So he wears a psychological mask in public.
His wings are atrophied and he has never managed to fly.
And as his family runs the storm factory, they are worried about the succession of their inheritance.
And they blame Soul.
suddenly soul silver lives in the shadow of heart gold, which he has all succeeded.
it's his best friend, but also his rival, and he ends up jealousy and despising him
Soul Silver (c) me (so does all the other characters here

)
Cast Bronze (c) Poker
C. Hurricane (c) Hasbro
Follow me on:
- Deviant art:
dormin-kanna.deviantart.com/
- Patreon:
www.patreon.com/Dormindrawingi…
- Facebook:
www.facebook.com/Dormin-110354…
- Twitter:
twitter.com/Dormin_DIM
- Tumblr :
dormin-drawing-is-magic.tumblr…
- FA :
www.furaffinity.net/user/kanna…
- MLE forum rp :
mylittleequestria.rpg-boards.c…
- Page FB du forum rp MLE :
www.facebook.com/My-little-Equ…
…/
Image details
Image size
2480x3508px 6.59 MB