blog | tumblr | facebook | Commissions | gallery | Sketchbook | Artbook

---

NEW ARTBOOK : "EMOTIONAL"


---

[18.09]
Orders are still available.
Please contact me if you're intersted!

INFOS

(Click for full-view)

PREVIEW

(Some preview of the proof I've received)
About the artbook :
This book is about my main project "La Reine Bleue".
It contents illustrations in B&W hand-made (pencil), showing the different characters in different situations and periods of the story.
There are two step by step, sketches and comments as extras!
Cet artbook a pour sujet mon histoire de "La Reine Bleue".
Il contien des illustrations en N&B réalisées à la main au crayon de graphite, représentant plusieurs des personnages de l'histoire dans des situations différentes, en gardant à l'esprit le thème des "émotions". Plusieurs périodes de l'histoire seront survolées, contrairement aux sketchbooks qui se focalisent sur une période à la fois. Ils y a donc de l'inédit, du "spoil" (mais ne vous attendez pas à de grandes révélations, car mes textes seront succins et ne gâcheront rien - du moins je l'espère), des personnages peu montrés jusqu'ici ainsi que les principaux (bien sûr) et des indices sur l'histoire.
Ces illustrations sont accompagnées d'un step by step ainsi que de croquis dans une seconde partie.
Please read carefully all the infos before to order.
Details of the product :

THE PRODUCT :
•
19,5cm x 24cm
(a little smaller than A4)
•
40 pages
(25 hight quality illustrations + sketches + step by step + comments)
•
Hight quality paper inside
(128g gloss paper in grey scale)
• Flexible cover (300g)
• Language : Both
french + english

PRICE AND PAYMENT :
•
PRICE : 9 €
•
Shipping cost :
- France métropolitaine : 2,40€ (Envoi prioritaire) / 1,80€ (Eco-pli)
- DOM-TOM : 3,15€ (Envoi prioritaire)
- Europe : 4,10€
- Worldwilde : 5,60€
•
Payment method :
PAYPAL ONLY
(éventuellement chèques pour la France)
Contact me by
DA Note
or
e-mail
at doria.plume@gmail.com
•
Ordering Period:
All time, until I have no stock anymore.
Content :
It contents
25 hight quality B&W illustrations
, including these ones :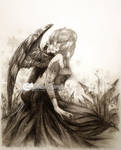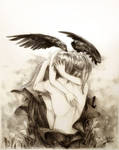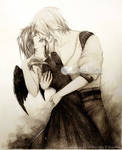 ---
If you have any question just ask me!
Si vous avez la moindre question ou si vous n'avez pas compris quelque chose, demandez-moi !
REMINDER :
(!) Don't forget to wrtie sur deviant name in your order as I can recognize you.
(!) Don't forget to give me your complete postal adress.

Oh I was meaning to ask too how come there's a blank page after every drawing in the book?? Was it intensional?