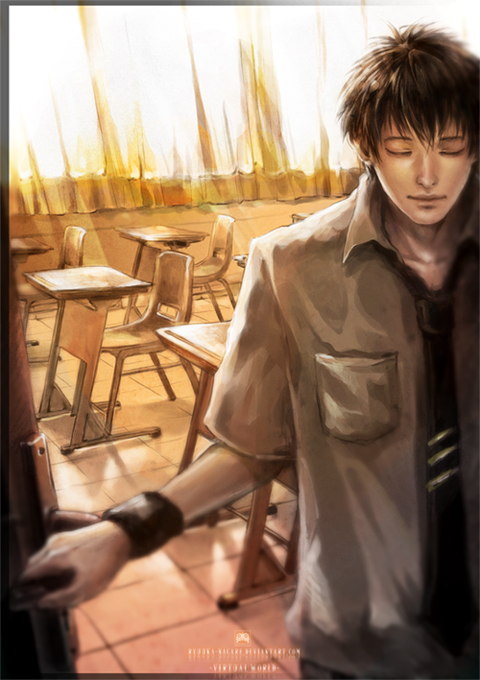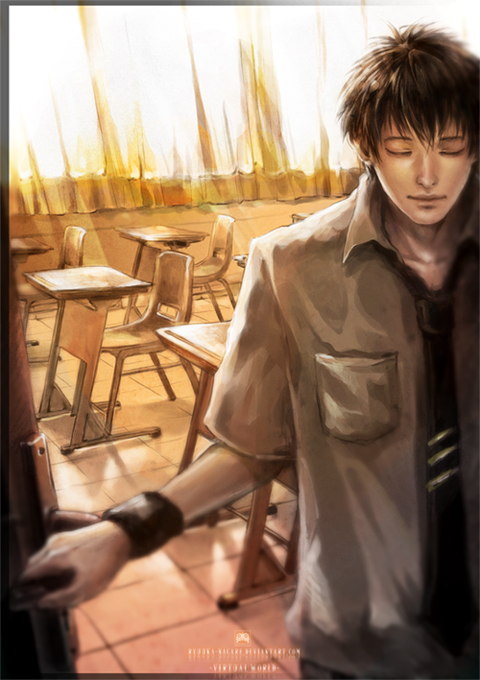 Because the evening sunray
and the dust on the desks
are our silent witnesses.

Even though we are apart
You'll always be in my heart.
---



This will be included in my school's Annual Book.

Photoshop CS3
Wacom Bamboo Fun
6 hours

I tried to make this look as similar as possible with my actual classroom and uniform.
...
Yea, goodbye, high school.

I wonder whether I should be happy or sad lol.



Step-by-Step
| Twitter | Facebook | Tumblr |
This deviation is full of something that I've always been searching for, in the maelstrom of the 1001 artworks on DA : feelings.

The colors, the composition, the light, everything conveys a deep nostalgia, a little melancholia that we ressent sometimes towards something that we have to leave, something that we didn't really cared for the first time we discovered it but now that we realize that we won't see it anymore, his value suddenly emerge.

Congrats for making such a beautiful piece in such a little time, you are definitively a great artist and I wish you to raise the summet, you already have some great wings to do so.
The Artist thought this was FAIR
9 out of 9 deviants thought this was fair.
I know what it feels like to leave something so great, I love school a whole lot cause school showed me what I can do and I didn't even know I could do them

Like I'm good/decent at many different arts but when i got into high school, I found my one true love, Theater Arts, It felt like i was in my own Wonderland.

Having to leave was so hard I cried 3 I wish i was in school still.. I had to stay home and take care of my family, was going to school this fall, but my mom said that I can't go to school till spring, the only sad part is i cant be apart of theater ;_; anyways Your tech. was awesome I love the many colors you used, I gave you 4 for Originality cause every one knows what it feels like to say good by to school and at the same time this is a first I have seen a that puts that kind of feeling into it. You did a wonderful job w/ this

Keep up the good work!!!!~

The Artist thought this was FAIR
10 out of 10 deviants thought this was fair.