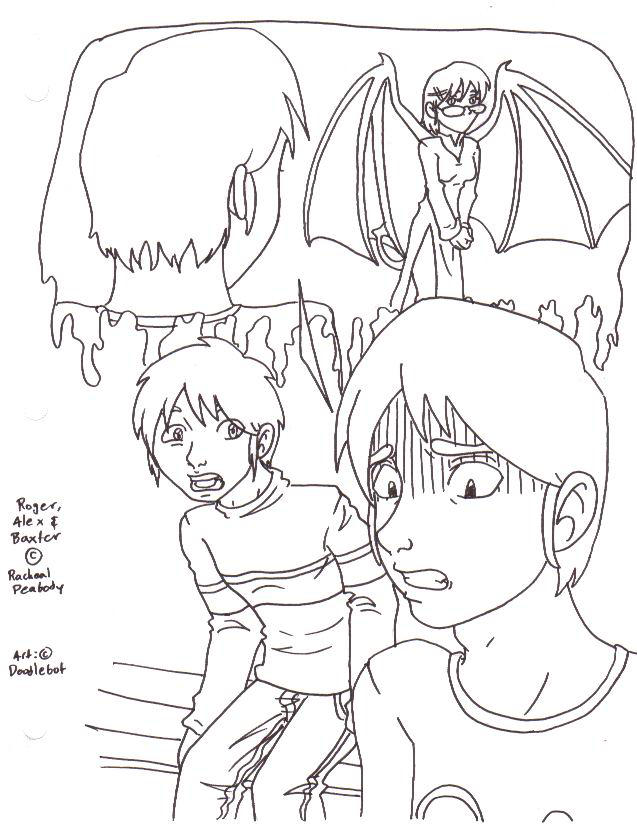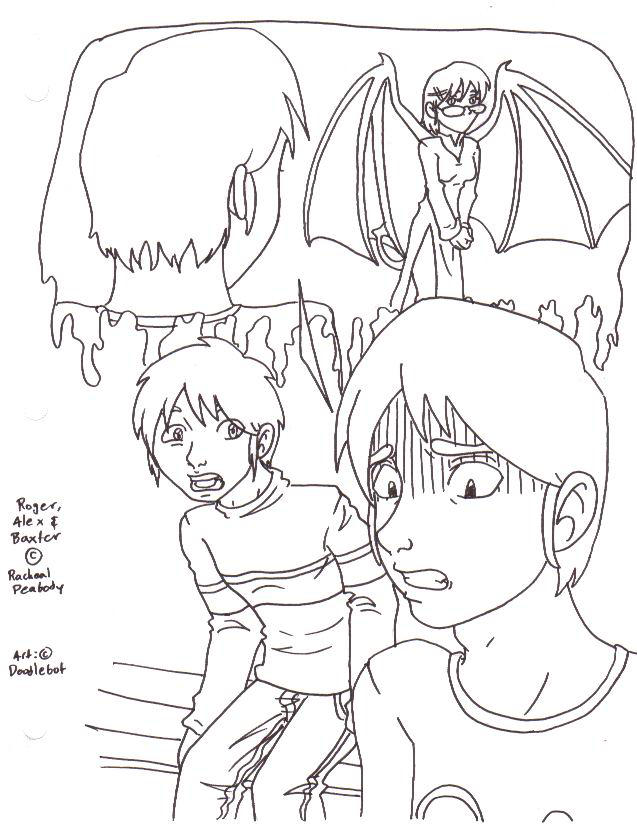 Watch
My part of an art trade with the talented tea-for-me who does entertaining comics. The characters shown here are from her comic Go Fish
[link]
The idea behind this is that Baxter, to get Roger to help him, promises to provide the poor boy a girlfriend. As my mind percilated on that thought, I made up a situation where Baxter became said promised girlfriend. I guess he ate some poor random girl for certain add-ons shown. XD
Anyways, this picture shows Roger recounting such a situation as a nightmare he had, I like how Alex's expression came out XD Though, from today's update, he apparently just had a relationship foray with a God himself... soooo... I dunno if he's one to judge ^^'
Anyways, I wonder who will try to kill me first. Will it be Roger, Baxter, or someone else?
I hope you like, Racheal, I'm going to color it when I can get a copy of it undetected by parental units.

XD This is hilarious! Most definate

!
Reply

Alex: Wait wait wait wait.....WHAT??!

Roger: :: shudder... ::

Just thought I'd share what I hear everytime I look at this.
Reply

XD 'Tis funneh, I was pleased that the faces came out so good that I didn't need to put words.

I tried to color it in paint so I could get it to look like the cool coloring you do on Go Fish, but because the background is not pure white it only goes in splotches... hwo do yuo get it to work?
Reply

I use Paint Shop Pro and use the "Threshold" option that makes things strictly black and white. After coloring, I resize it so the lines don't look so...liney...

I'm thinking about moving to just photoshop to color so the pages will not look like they are done with paint...paint makes me soooooo mad.
Reply

I like your style of coloring, even if it does look as if done in paint... it's kind of refreshing.

How much is Paint Shop Pro, do you know?
Reply

Sigh. :: seppuku ::

I don't. I got it for Christmas. Sorry.
Reply

I love you.

Ha ha ha.

Thank you! I will send yours along forth-with!
Reply

Definitely a good expression.
Reply