Through the long off, far-ago days of the ancient Emporian Empire, there strode a figure sung in song and noted in occasional footnote; a dim, legendary being; the bazaar personage known as Ven-Dor the Merchandiser....
Hither (and thither) came Ven-Dor the
Merchandiser, thinning-haired, bleary-eyed, record book in hand, a seller, a trader, a bargainer, with grotesque complaints and easy amusements
, to tread the garish carpets of corporate hotels under his aching feet.


Into the sales booths of odd events came Ven-Dor, pastey, pot-bellied, and peculiar, always buying strange instruments of glass and metal and combining them into instruments yet stranger....


Through the egregious eras of the Hyperbolian Age Ven-Dor wondered, accompanied by occasional accomplished accomplices and by his loyal paraphernalia. From the dusty, neglected cater-corners and unsuspected cross-corridors of space and time and other niches and higher and lower dimensions, he gathered the very odds and dubious ends of his alchemerical trade.

Nobody expects the spontanious acquisition.

===========
This is me, selling my stuff at the 2015 PantheaCon.
Photo by Bob Spikard of Dragon's Treasure (_very_ slightly edited by me): www.etsy.com/shop/dragonstreas…
Hat by Victoria Ridenour: victoriaridenour.com
The deerskin poncho has Celtic wolves embroidered on the back; see link below. This is from Artemis Archery: www.artemisarchery.com
Pendant (carved antler wolf head with garnet eyes) by the late Reva Myers of Amber Moon: ambereva.com

And a view of the design on the back of the poncho, and a scan of the hat: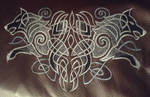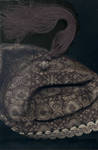 "The garish carpets of corporate hotels":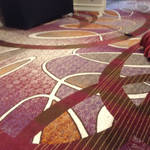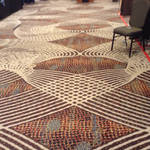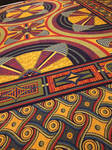 VS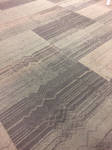 NOTE: The first two paragraphs of the description are parodies of two of Robert E. Howard's descriptions of his famous fictional character, Conan the Barbarian. My vending persona shown here is named in the style of characters in the stories about Conan. The third paragraph is a parody of one of H. P. Lovecraft's descriptions of one of _his_ famous fictional characters, Nyarlathotep.
Image details
Image size
597x676px 241.98 KB