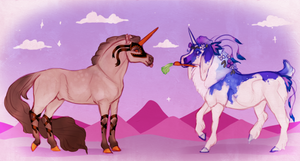 Tip Jar
Supporting me and my boucle art allows me to develop my game further, and earns you my eternal gratitude and love!
---

Description
Semi-Fewspot Koi

Modifier by ColoradoPeaks

Semi-Fewspot Koi creates a white pattern with tiny and minimal specks of base-coat showing through, and a koi-red patchy and scale-y marking extending from the topline. It can create mottled skin and white in tail and mane, though this isn't always the case.


Lp
k
Lp
k
/nPATN1 or Lp
k
Lp
k
/PATN1PATN2
Image size
2394x1660px 1.39 MB