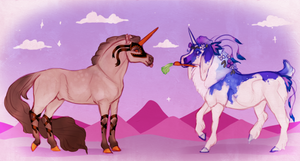 Tip Jar
Supporting me and my boucle art allows me to develop my game further, and earns you my eternal gratitude and love!
---

Description
Inverse white creates the opposite pattern to its counterpart white pattern. In the case of inverse sabino, most often the legs and face are the base colour and fades with a mottled or jagged edge into white.
When inverse whites are combined with their regular counterpart on the same locus, it creates an "outline" of the pattern, a thin line of the base coat where the edge of the pattern or spots would be leaving the rest of the coat white.
Inverse white does not affect residual white or any Birth Anomaly whites.
Sb!Sb or nSb!
Be advised that the genetics of boucle white spotting patterns do not correlate to real world horses white spotting genetics. (For example, there is no one type of sabino in real horses).
Image size
2394x1660px 1023.82 KB