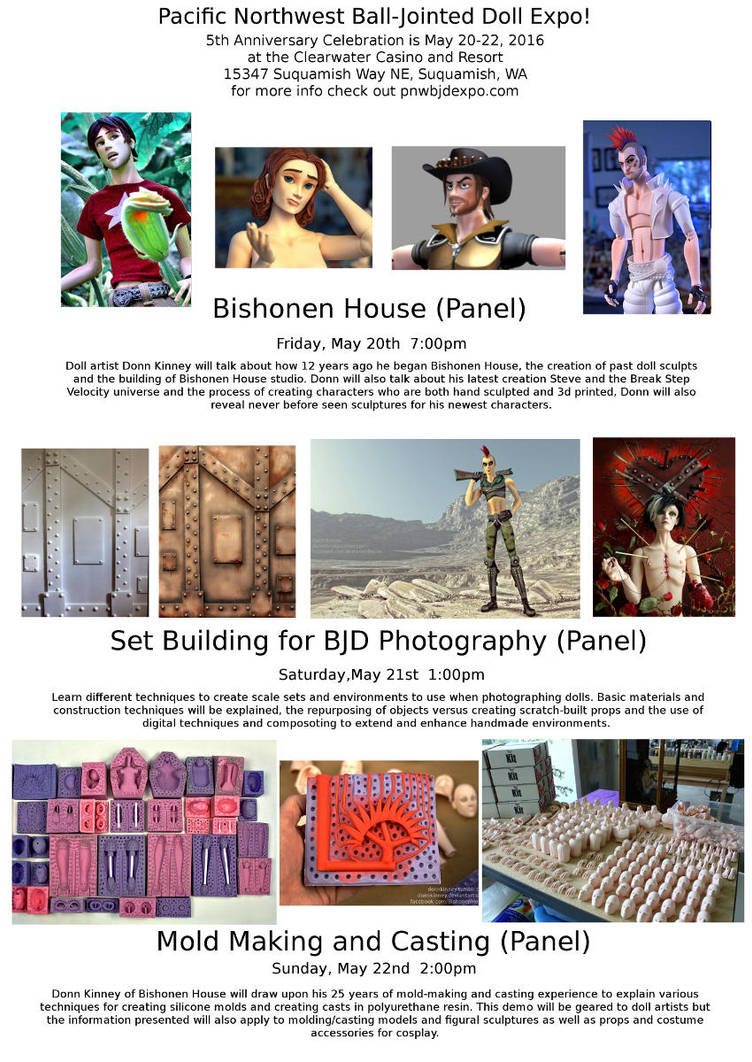 For those in the Seattle area and those willing to travel for some BJD fun!
I will be a guest at the 5th annual Pacific North West Ball Jointed Doll Expo! May 20-22! At the con ill be giving three panels on how I create my work as well as displaying art and selling dolls, kits and accessories in the sales room.

I'm unfortunately not able to attend west coat cons all that often (my last was in 08) and my last time in Seattle was for a single day wayyy back in 92 when i was working on Turtles 3 so I'm pretty damn excited about this convention! :-D

At the con ill be celebrating the 12th anniversary of Bishonen House so ill be giving away some cool con exclusive items at my panels, showing some never before seen digital sculpts of my next character releases for the fall and winter of 2016 and even a few seek peeks at characters who will be coming in 2017! I will also have the unreleased next seven pages of Break Step Velocity on display at my sales table!! (aka the Steve comic) This will also be the first con debut of Nails, Mira (and if the silicone gods allow) Spade! so be sure to drop by my table in the sales room and say hi!

Last but not least i will be announcing the winner of my Tumblr share contest at one of my panels!!

I'm not exactly sure what kits/dolls I'll be bringing to sell, I do plan on bringing a handful of rare wigs and faceplates that have only been available to my patrons on my Patreon page (these rarities are first come first serve and when they are gone they are gone!) whatever kits/dolls/faceplates I do manage to finish and bring will be very limited due to the fact that I'll be carrying everything with me as I travel from WV to WA by train!!.. I very badly wanted to do another cross country drive to enjoy the scenery but the cost of four additional hotel stops on the way to, and on the way back from the con is a little pricey for me at the moment so I decided to do the next best thing.

If there's a doll or kit in particular that anyone attending the con would like to purchase please send me a note or an email and let me know in advance and ill do my best finish and bring it along.

I would greatly appreciate it if everyone with doll friends (especially ones in the Pacific NW) would share and pass on the info!

Thanks, and I hope to see some of you there!