Deviation Actions
Daily Deviation
December 2, 2009
frozenstocks said of Mystic woods by =
Domi-nica
"I'd like to suggest it because however unnatural the colours may be, I think it's a very beautiful stock photograph that we will see being used a lot in the future"

Description
Because I used stock images a lot I decided to put something in response.

* Credit me (this is A MUST, if you can't do it by some reason - note me, let's talk about it)
* Please

if used
* Leave a link to your deviation, I like to see what you did with it

Feel free for commercial use. But.. DO NOT JUST CHANGE COLOUR or REPOST IT AS IT IS. This is NOT ALLOWED! Do something with it, be creative! I will hunt those who try to take credit for my work! And have fun, but don't steal.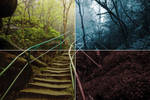 ***
Thank you very much for DD!!

&

And so very, very thank you to all of you!!!



This really make my day.

If you wanna know where it was taken, try to find Table Mountains in Poland. Or a map with keyword "gory stolowe" (google maps?).

Copyright © by Dominika Anioła


Facebook

Twitter

Instagram

Society6

500px

RedBubble Photo

RedBubble DigitalArt

Pinterest

Curioos

Check out my website:
www.dominika-aniola.pl/
Image details
Image size
4272x2848px 8.54 MB
Shutter Speed
1/125 second
Date Taken
May 23, 2008, 11:57:32 AM