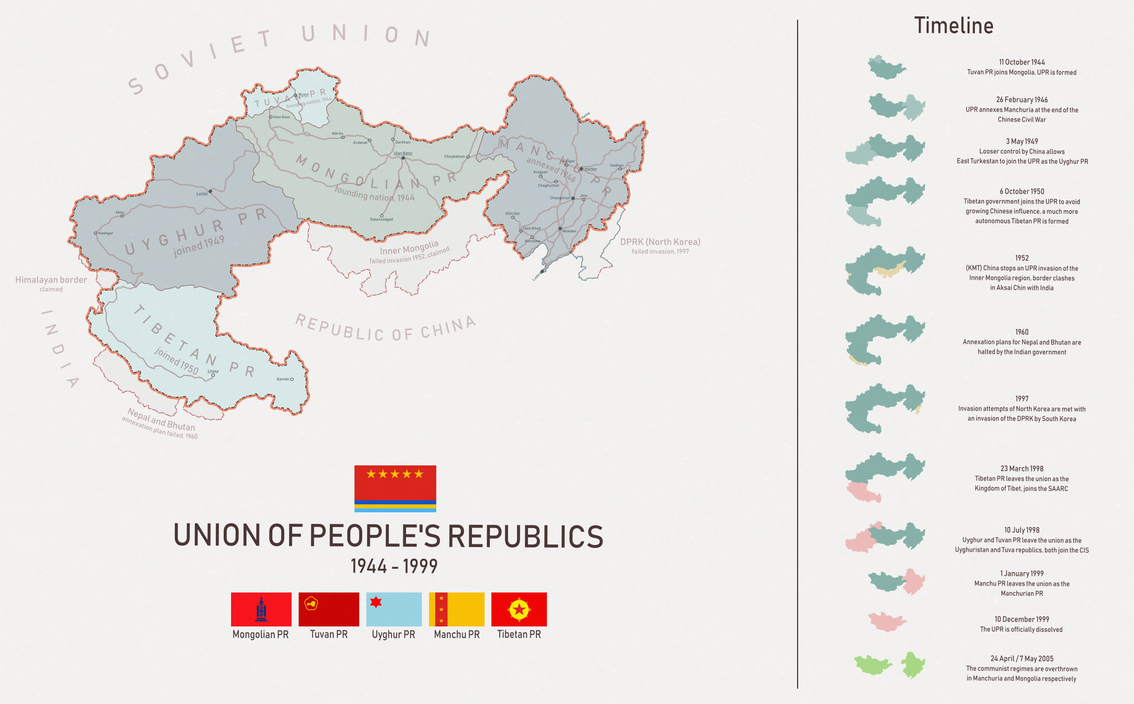 I stumbled upon this interesting scenario created by
kyuzoaoi
and tried to make my version! Check
kyuzoaoi
's original map for the full scenario! Mine is a little bit different (for exemple it has the ROC instead of the PRC)...
Basically, Tuva joins Mongolia instead of the USSR in 1944. Mongolia gets the chance of having influence on 3 other buffer states squished between the USSR, China and India, and absorbs them in a union of socialist states, no matter how strange it looks.
UPR, Uyghur and Tuva flags are made by me. Mongolian flag is the original Mongolian PR flag from 1930, Manchu flag is from Imgur user MinecraftMinun
imgur.com/gallery/YCwMVG9
, and Tibetan flag has been made by, again,
kyuzoaoi
UPR Flag: the five golden stars represent the five republics that make up the country, all on a red background that is common to many socialist/communist states. The three bands on the bottom represent:

Dark blue: the Mongolian and Tuvan people
Gold: the Manchu and Tibetan people
Light blue: the Uyghur people
Update [21/08]: added a timeline of the nation and the invasion of North Korea


YES PLEASE! This way I'll be able to speak Manchu more in real life, Tuva will remain independent, and the peoples of Xinjiang will preserve their culture and languages more!
Reply

Reply

Reply

Reply

Even when the ROC wins out, Tibet is still a victim of communism, it seems.
Reply

Joined to escape China's interests, but quickly realized they swapped Chinese influence with Mongolian
Reply

Reply