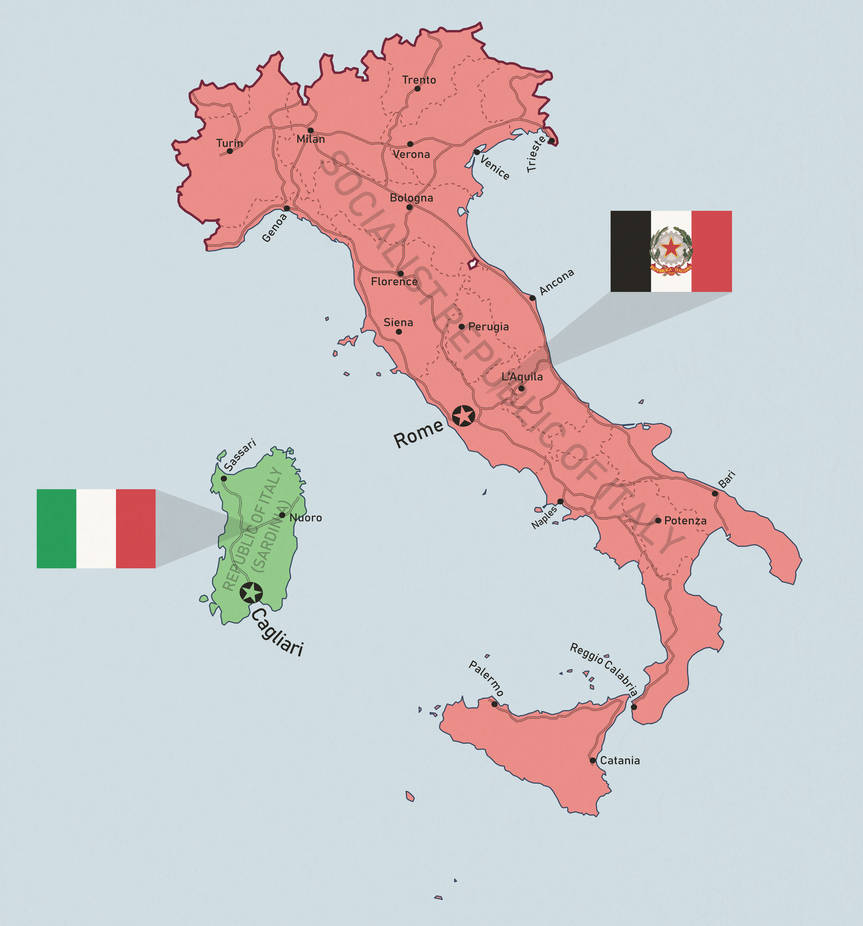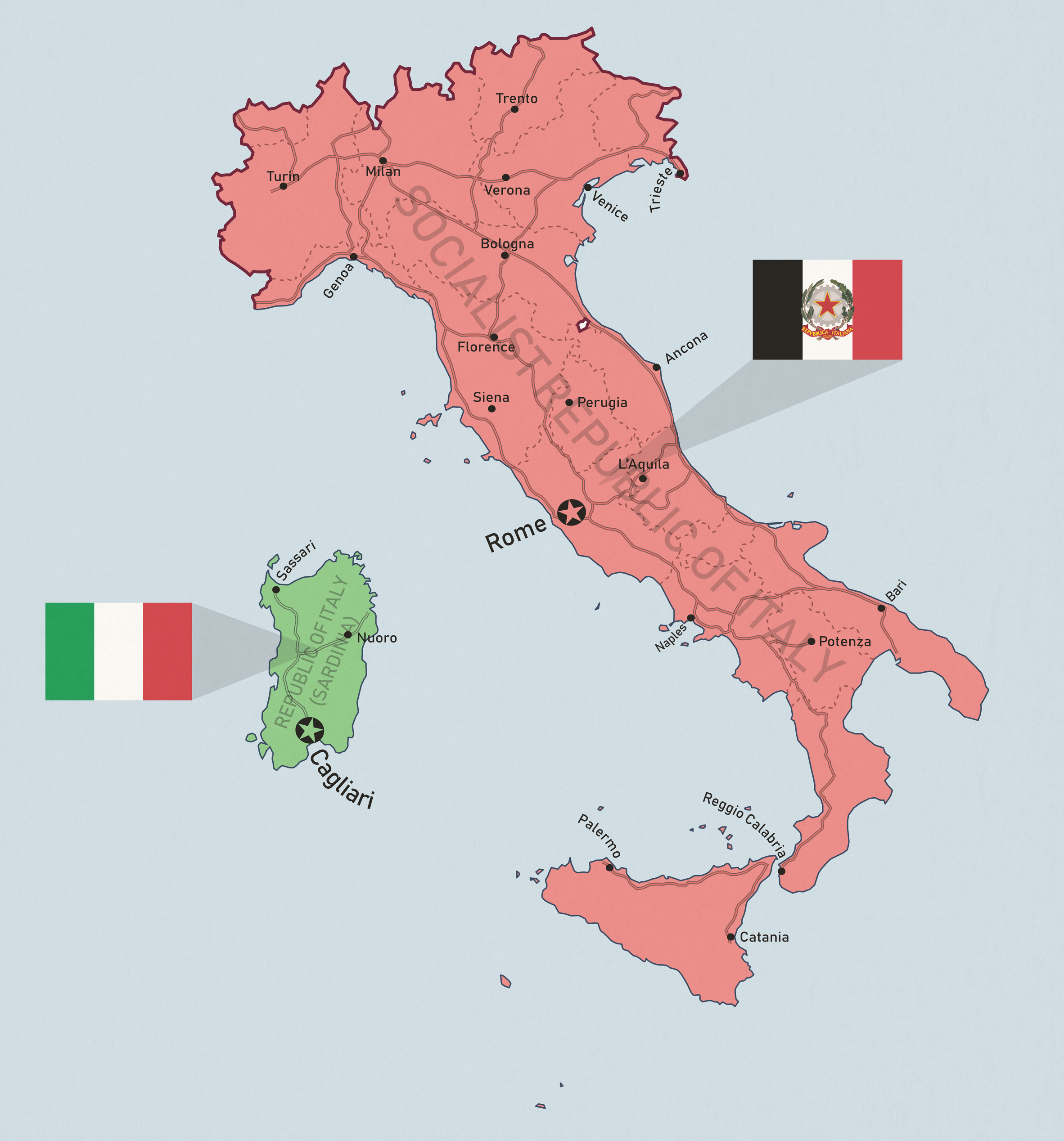 Watch
A new concept I would like to explore: the Chinese civil war led to the flee of the KMT government to the island of Taiwan, and to the communist takeover of the mainland.

But how would a similar scenario apply to other countries? I tried first with Italy. A communist (or socialist) takeover of the Italian mainland + Sicily and the retreat of the old government to the island of Sardinia.
In fact, this scenario can be applied to many countries and with many different outcomes...

The greatest questions will be what will the atheist communist do with Vatican? Will it be free?
Reply

Prefer the opposite of this case.
Reply

Reply

I think the Elba island would work better, at least for proportions
Reply

Effettivamente le proporzioni sarebbero più realistiche, ma è come quando abbiamo discusso su come applicare lo scenario alla Germania: l'Elba sarebbe troppo vicina alla terraferma in una probabile guerra civile, e verrebbe conquistata con facilità....
Reply

And now the US invades France to give the ROI Corsica...
Reply

Wasn't hammer and sword a symbol of Strasserism?
Reply

It was indeed. Strasserites used to still refer to themselves as national socialists in th 30s tho but certainly calling them or their symbol communist in any way is wrong.
Reply

I don't know, I just looked in a contest about a flag for a communist Italy and this showed up
If it isn't fitting I'll change it

Reply

Don't worry so much about it but changing it would fit the scenario better yeah. It's still a nice flag tho.
Reply

Reply

I see, and what do you think of communism?
Reply

Which type are we talking about? In general I think Marx did a good job roasting Capitalism but he made mistakes in predicting its future development and his utopian ideals are outdated. I think the Strassers found a good way in the middle between social justice for the people and personal freedom. I still respect Communists more than indoctrinated liberals that keep shilling for capitalism and America tho. Hehe.
Reply

I had thought of a similar thing including this for France and Spain moving to Corsica, the Belares y Canaries, Portugal to the Azores and Greece to Crete.

Sicily has an advantage of having the 'judges' in its history, too, for a more liberal tradition to fall upon (at least, to be shaped as such)
Reply

That's exactly what I thought. It could be fit for so many nations (eg. the USA with Hawaii, Japan with Okinawa, Australia with Tasmania, South Korea with Jeju, Denmark with Bornholm...)
Reply

Heh, Denmark with Bornholm is a thing on SSSS. Islands are very appealing for a government to run to....
Reply

We could have an alternate World War Two Scenario where the Estonian government went to the West Estonian Archipelago.

Saaremaa and Hiiumaa are the Taiwan proper equivalent.
Muhu is the Penghu (Pescadores) equivalent.
Vormsi is the Kinmen equivalent.
Kihnu is the Matsu equivalent.

The Estonian SSR is the equivalent of the PRC.


Other Ideas:
Papua New Guinea with Bismarck Archipelago and Bougainville
Portugal with Madeira and Azores
Spain with the Canaries (the Balearic Islands are Catalan in culture)
Sweden with Gotland
Greece with the North Aegean Islands from Lesbos and south
Cuba with Isla de Juventud
Reply

An interesting AH scenario for Spain: after a socialist victory in the civil war the kingdom would escape to the Balearic islands and the nationalists to the Canary islands. Three governments that claim to be the legitimate one, for short
Reply

My two cents to this possibility:

Socialist Republic of Spain (Spain-Madrid, Spain)
Controls: Mainland Spain, Ceuta, Melilla, Spanish Morocco, Tangier (jointly with France)

Spanish Kingdom (Spain-Ibiza, Balearic Islands)
Controls: Balearic Islands

Spanish Republic (Spain-Santa Cruz de Tenerife, Canary Islands)
Controls: Canary Islands, Ifni (later sold to French Morocco), Spanish Sahara, Spanish/Equatorial Guinea (Río Muni later independent, Bioko remains in Spain)
Reply