The Pacific Northwest is a place of unique and incredible beauty, and we as a group are dedicated to bringing this beauty to the rest of the world. We celebrate photographers of all skill levels, from all backgrounds who come together with one purpose: to share our love of this special part of the United States.
Once a month, we feature one artist from our group in particular who we feel deserves special recognition for their talent and their contributions.
This month's featured artist is:
elementalunacy
He is a wonderful photographer who has, from the very start, supported this group and contributed his artwork to help it grow. A hidden talent here in the deviantart community, we can only hope that this feature will help others discover him as we have.
He was kind enough to take time out of his life to answer a few questions for us, which can be found below, along with links to some of his artwork which is featured in our galleries.
Q: Are you originally from the Pacific Northwest? If yes, which state, and if no, then what has drawn you to this part of the country?
A: I am originally from Ballard, Washington and now reside in Everett. Old downtown Everett kind of reminds me of how downtown Seattle used to be 25 years ago. Beautiful buildings, not a lot of people, and plenty of parking. I've never left the Northwest in all of my 32 years, aside from traveling to various spots around the world. In everywhere I've been, aside from New York and a few spots in Europe which hold their own sort of charm, this place is by far the most incredible place I've seen and I know why so many people have moved here since I was a kid.
Q: If there were only one thing you could tell the rest of the world about the Pacific Northwest, what would it be?
A: Go camping! I love the outdoors here, from the prairie plains and rattlesnakes of Eastern Washington to the rainforests of the Olympic Peninsula and beaches of Kalaloch. I feel like I practially grew up in a tent, we camped so much, and I still can't stay cooped up in the house for much of the time. We've got kickass camping up here, and you should do it as much as you can.
Q: Is photography your main profession? Or is it more of a hobby for you?
A: I'd like it to be my main gig, but I'm currently paying the bills as a commercial electrician. I've got my first showing underway now at "Common Ground" up in Burlington, but so far no takers. I'll keep at it and see if other locations hold more promise.
Q: How did you become interested in photography?
A: My Granddaddy Wilson gave me a Nikon EM (which are running a whopping $25 or so on eBay) sometime in the mid-80's, and I took that thing all over the world with me. Before that I had a Kodak something-or-other that shot 120 film that my Mother gave to me to play with that I eventually dismantled completely with a slotted-blade screwdriver. I like seeing how things work. I must've been 7 or 8 at the time my Grandfather gave me that first real camera. I've still got it, but don't use it much. I've always loved photography and I don't remember a recent time where I didn't have a camera strapped to my hand.
Q: What piece of advice would you give to anyone else interested in photography?
A: KEEP AT IT, NO MATTER WHAT. Be open to constructive criticism and above all else, take pictures of what you love and do whatever you have to do to capture the way you see world through that lens. I've found it to be an all-consuming endeavor. Just be passionate about it and find subjects that bring rise to emotions and take it with you through the lens.
Q: What is the most popular piece of artwork in your gallery? (Strictly based off of number of favorites and/or comments.)
A: "Pugs". I don't know WHY. It's a picture of 2 pugs with red leashes that pop out from the grey sidewalk, but I never saw anything really incredible about it. I guess it's got good symmetry and the two dogs seem quite stoic, and it did strike a chord in me.
Q: What is your personal favorite? (Doesn't matter how popular it is/is not with the rest of the deviantart community.)
A: This one I did of the Space Needle at night. I worked on the time-lapse shot with the start and stop of the Ferris wheel in the foreground and after a bunch of shots I nailed that one down. I've got it printed on canvas and it hangs over my mantle.
Q: And the toughest question of all: Oregon or Washington?
A: The native Washingtonian is gonna say - Oregon? I know I've never lived there, but I visit whenever I can. I have several friends in the Portland area and I've never had more fun than the times I've had in that town. I also plan to start exploring some of the old ghost towns down there. Unfortunately, most of all the good abandoned stuff up this way has been torn down by developers. I guess I find it intriguing because I know there's a lot down there that I haven't seen yet, and yet everything I have seen there is absolutely incredible. It's a really beautiful State.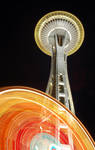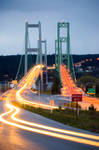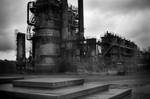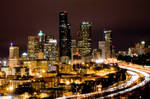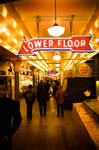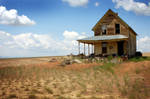 :thumb160305970: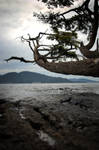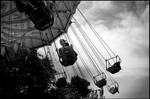 Thank you to
elementalunacy
for taking the time to give us this interview, and congratulations!