Updated: November 5, 2010
Effective: November 19, 2010
PDF
Text

Ready to take your order 2

Commissions: Readme
Effective July 31, 2005, I, David Ashmore, will be accepting commissions. A commission will be defined by the Universal Observatory, as any work of literature, art, or collaborative labor done for the gain of monetary compensation...
On November 5, 2010, some clarifications in terminology and procedure were made. These are considered minor changes and not notation of those changes are made below.
Rules are in place to prevent poorly considered orders, not discourage individuals from placing an order. I will make exceptions on a case-by-case basis at no charge (if that is your fear). So ask. The worst that can happen is I say "no" - and that doesn't happen too often.
Changes may be made without notice but will not be retroactive...
What will be done...
-Fights, sexual foreplay, action, stunts, romance, group shots (priced as listed), "ultra-violence" or its aftermath and "after sex".
-"Ultra-Violence" will be loosely defined as acts producing go
Status:
Still open for business.
Just a few pointers...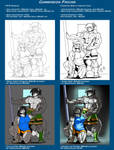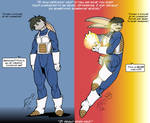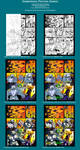 More to come...
Other Sites
DocWolph on Fur Affinity
DCAshmore on VCL
DamnDroidZ on Inkbunny
Journal Entry
I'm back... I'm not dead (that carries a bit more meaning to me than most)...
Everything hurts. Nothing tastes good. and I have not had a full commission docket in over 2 years and barely eeking 4 order in a month in over 6 months.
I don't know maybe I should not have bothered. I saw this coming for a long time as the orders slowed. I want to complain endlessly about the issues what few who commission me keep heaping on me. But I did that once and apparently that shot myself in the foot. I could legitimately go on for pages.

But one thing I can say, I am honestly sick to the teeth of, "draw my female muscle character with insanely huge muscles standing there flexing an massive bicep... and I do through their gallery, if available, and they have literally dozens even 100s of pictures of the same character doing the same pose form dozens of artists. Why? because that is all you think of your character. if you character is some kind of superhero, how about asking to have them do superhero things? Perform feats of strength or power that is not "a day at the gym" that just happens to have them flexing up a huge bicep.
This is NOTHING new. I have 6+year old tip image about this.
And yet this seems to evade a lot of people. If you don't ask me to, then let me, do an interesting picture I'm not going to just pull something out of my butt you are likely NOT going to be okay with. So "Vegeta Rabbit on the Left" is what most people end up with (except those whom I managed to develop a bit of a working relationship with), when they really wanted was "Vegeta Rabbit on the Right".

I am open for business and that does not seem to matter. There are at least dozen artists I would group with myself, in terms of skills and execution, who are working for less, and arguably delivering more. Some of them are just cranking out essentially the same concept over and over. There are times I KNOW I suck and I wish someone would tell this before it came to this.

I'm done for now...

Journal Ends
*** Always check the Download button for a larger image ***

Visit the Female Muscle Club

Some really nice large emoticons. Just take a look
Personal Spot light (updates pending):Commissions in Progress:
(in order received) Will be corrected as information is available and permitted.
1.
Star on FA
*on "Retainer"
2.
Railway-Traveller on FA
3.
TemhotaTech
4.
5.
6.
7.
8.
9.
10.
Holding. Order delivery withheld for various reasons.
Vector Yamazaki on FA
(Done, Payment due)