How're you doing? It's been a while!
So many things happened at the end of last year.
Here's a brief summary.
I've been guest at Y/CON5 in Paris, and I had the best time with the awesome guys of the Staff and supporters. I really hope to come again this year or maybe next one.
My comic
CyberSteel
won the Italian Indie Comic Award 2015 as 'best sci-fi comic'. WOAH! Totally unespected! Thank you to the Anime Click's staff, Alex Ziro in particular, and to all the people who voted for CS. Love ya!!
I've been in Nice (France) to sign a contract for an important show to be announced sooner than you expect, and I'll be working on a comic to be sold at the Premiere. WOAH²!!
So it happened. Now I have my VAT number and I'm finally a legit
professionist
. This means I'm gonna open commissions soon, on Patreon, Facebook and DeviantART.
Plus, from the 15th of this month,
I'm gonna open a
Patreon
raffle accepting waist up requests like this one.
You just have to be a Patron to enter.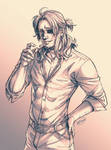 Worick from 'Gangsta'
Anddd, last but not least, a little gift for my followers. A PSD file of the drawing above.

>>
DOWNLOAD
<<
Love you people. Be good!
Yours, SirWendi