Finally I'm sharing my brushes with you.
>> Downloadable as ZIP folder <<


This is only a collection of freeware brushes I found on the net or made by myself.
Others are from Ptsbrushes, Skoptsy, LittleUlvar, Paexie, Raeoffrecord
HOW TO INSTALL THESE BRUSHES:
1) Go to your Paint tool SAI directory (the folder in which you've installed SAI).
2) Be sure to edit your SAI files while SAI is closed.
3) Download the textures
from here
and drag them in the respective folders in your SAI directory, which are
brushtext
,
blotmap
,
elemap
.
4) Right click on your Brushform.conf file and select 'Open with...', then select 'Note pad' or 'Word pad' from the list.
5) Copy/paste
this code
into your file. Be sure to keep your codes too if you want them to show into your brush list.
6) Do the same with Brushtex.conf but past
this code
instead.
7) Now you have to set your brushes manually by copying my settings. Just download this deviation to get them (download link is on the right).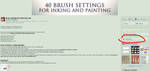 You CAN'T copy these settings in a directory.
You have to open SAI and create a new tool for each setting MANUALLY.


IN CASE THE DOWNLOAD LINK DOESN'T WORK, TRY WITH:
1) Changing browser
2) Disabling your AdBlock (this did the trick with people in the past, so consider it!)
3)
Deleting your browser cookies
(this did the trick with people in the past TOO!)
OR 4) Right clicking on the button and select the folder manually
IMPORTANT!
If SAI doesn't work again you should edit the files MANUALLY or REINSTALL SAI.
IF YOU DON'T KNOW HOW TO SET A BRUSH ON SAI, READ THIS TUTORIAL FIRST:
painttoolsaibrushes.splstc.com…
---
HELLO,
I'm the artist who created and/or collected these brushes!

I'm sorry but I disabled comments because several people wasn't respectful enough to even read the Deviation comment and they DEMANDED help to set these brushes.
Unfortunately for you, I'm not here on DeviantART to make tutorials. My main job, in fact, is to be a freelance artist. I don't make money over these brushes, they are free. This means I don't have the time to reply to every comment about these brushes and to help people setting them, especially if they can't read a few lines longer than usual description...

If you want to set your own brushes on SAI, you should at least know what you're doing. If you can't figure out how to install these brushes even after my accurate (but indeed not perfect) description and provided links, you can still ask Google or search for other tutorials around the net.

But PLEASE, I beg you, don't send me notes or messages about this Deviation on my profile. EVER.
I will not reply and I will probably block you right after.
Doing the customer care 24/7 for free resources is not my job right now and it will never be.

So thanks for reading and be patient with me!

Comments have been disabled for this deviation