Hi everyone

This is my final ever Journal I shall ever be writing about my final ever London MCM Expo / MCM London Comic-Con . . so, in typical Kryten from 'Red Dwarf' style, may I just say first off to quote that character from the episode 'D.N.A.' - Engage panic circuits - panic circuits engaged -
UHHH HUUUU !!

Right, let's see what I can best remember about my final three day's.

FRIDAY 27TH OCTOBER 2017

The day started off at 10am. I began my day inside the London Excel Centre on the north side of the building near the front entrance at a spot marked N1. If you went and you have a map of this month's Expo, you'll know where exactly that spot is. Having studied the map online in the day's leading up to the event, I decided that if I started my day at the spot marked N1, then I could go through the entire north side of the building until I got to the end marked as N7. N1 was a good starting spot because a dearly loved Deviant Art friend called Alice [Destiny Blue] had her table [listed on the map as 5642] very close to the N1 doors, so I went to give her a visit as soon as possbie, but the first couple of times I came by, she was busy talking to other attendee's, but I did briefly say hello before heading off home.
After checking pretty much more or less everything on the north side of the building, I then went back down the front of the building to begin checking out the south side marked as S1 through to S7. By the time I got to S5, I went to see the Anime / Manga retailers 'Tokyo Toy's', and my friend Sam who works for the company instantly recognized me and came over for a chat, but had some bad news for me too, which was that another one of the girl's she works with that I loved seeing and talking too called Jade would sadly not be with her and the rest of 'Tokyo Toy's' for all three day's, this somewhat upset me as I wanted to say a final goodbye to both girls on the final day as I've grown very fond of them having seen them a lot at Expo and the now closed down shop they used to work in in London at Piccadilly Circus, but at least I got to say goodbye to one of the girl's on the final day that I'll get too later as you read this Journal.
Once I finished going through the south side of the building, I went outside at mid-day for lunch out in the sun, and thankfully found two of my Deviant Art friends, JK [Firestar-Kelman] and Sam [Awkward Moosey], and spent the rest of the day largely with them.
Spotted 'Mighty Morphin Power Rangers' actor Johnny Young-Bosh that day too, which was important to my sister and his voiced some of her favourite Anime characters over the years.

SATURDAY 28TH OCTOBER 2017
If you've ever been to the Excel Centre on a Saturday during an Expo event, you will know that it is complete and utter
HELL !

in terms of trying to walk around the Excel Centre while a thousand more people attend the event, and it's hard to navigate your way through the crowd, who can be A) walking very slowly, and B) some of them, not even looking straight ahead cos they are too distracted by someone or something ! . . for me, walking through a crowd of a thousand people is rather like that moment in 'Star Wars - The Empire Strikes Back' where the Millennium Falcon is being persued by TIE Fighter's through an Asteroid field of fast moving Asteroids . . in other words, everyone around you an Asteroid, and you are the Millennium Falcon, trying to navigate you way through them all ! . . it's very irritating at Expo on a Saturday !

Anyway, the day started off at 9am, and I was joined this time by my sister Katrina [London Expo Fan]. She was dressed up as James from Team Rocket of 'Pokemon' because the original voice actor who voiced the character, actor Eric Stewart, attended Expo that day and she so wanted to get his autograph, so she did as I spent the day more or less entirely with her, plus we met right next to Eric fellow actor and voice artist Dan Green who used to voice Yugi Muto in the series 'Yu-Gi-Oh!'.
We had a good time looking around the place together and she bought tons of stuff at Excel which I think was largely more or less 'Pokemon' related. I myself decided to treat myself to some items from the good folks of the aforementioned 'Tokyo Toy's' which was a Pokeball Keyring [£5], a 'Death Note' ring [£5] which is the letter L in relation to the character L Lawliet, a 'Death Note' keyring which looks like the book itself from the Anime / Manga, and if you open the 'book' up, you'll find a little working clock inside it !

,and I decided to treat myself to a matching Pikachu hat [£12] and T-Shirt [£10], which I plan to do a photo of me wearing as a Tribute to the good folks of 'Tokyo Toy's', especially the girl's Sam and Jade I spoke off earlier.
As always, I spotted some of the cast of 'Red Dwarf' at the event which was Chris Barrie [Rimmer], Danny John-Jules [Cat], Hattie Heyridge [female Holly] and Robert Llewellyn [Kryten].
SUNDAY 29TH OCTOBER 2017

I'll be honest, I was somewhat dreading this final day, as it ment say goodbye to some seriously extrodinary friends, but it turned out to be a truly epic final day yesterday, it felt like a combination of all the best moments from all my past Expo's I've ever attended all crammed into one truly memorable day I will never ever forget about !

The day started at 9:30am. I had planned to meet my Deviant Art friends JK and Sam at the N1 spot I mentioned at the start of this Journal so I could spend my final day with the pair of them . . unfortunatly, JK appeared to have forgotten about me being at N1 at 9:30am [it's ok JK, we all forget things !

], but our friend Sam turned up on time with another friend of theirs, so I spent the start of my final day with Sam and her friend. We went straight over to the Destiny Blue table of our friend Alice . . and she was late for like 10 or so minutes !!

. . but off course we happily waited around at Alice's table until she arrived, she apologized for making us wait, but we didn't mind, we was just glad to see her, and Alice was sad that it was my final day as she has loved speaking to me in the past at previous times at Excel. As the day was to be my last, I gave Alice a lovely gift, a drawing of herself as a thank you for all her kindness to me and my sister, I'll upload a photo of it today.
After seeing Alice, JK finally showed up and me and him largely spent the day together while Sam spent the day outside as it can get too hot for her indoors.
One of the most epic things about this day happened at 11:30am when me and him went off to see YouTuber's Nick Acott and Gary Scullion of YouTube channel 'Sneaky Zebra' who had a half hour talk in front of a not so very large audiance. The lad's had one of their Video's produced and uploaded onto YouTube last year called 'Prop Wars: Prop Harder' played on a large screen, and gave a live commentary about the making of the Video as those of us in the audiance watched, I've seen the Video like 5 times before seeing it at Expo so it witness the Video on a much large screen was interesting. Nick and Gary talked about their hopes for a 'Prop Wars 3' [good luck lads

] as Prop Harder is their 2nd Prop Wars Video. After the end of their live talk, the boys gave away a poster of 'Prop Wars - Prop Harder' for free to attendee's, signed in person by the lads free of charge, so me and my mate JK both got one each


Here's the Video itself, if you have never seen how good Prop Wars looks, you should check it out . . and the original Video too if you look it up

www.youtube.com/user/sneakyzeb…
At some point, I went back to the 'Tokyo Toy's' stall for one final time to say goodbye to my friend Sam who works with the company, and to give her a little goodbye gift, a sketch of herself with a goodbye message written on the back, and asked her to give one to Jade who sadly off course was not there as I did a sketch of Jade too as a goodbye gift, Sam told me she will happily give Jade my goodbye gift to her the next time they meet up . . in fact, Sam loved the sketch's I did of her and Jade so so much, she asked another girl from 'Tokyo Toy's' to take a photograph of us holding my goodbye gifts to her and Jade, then a final goodbye hug between us as well . . I'm really going to miss that lovely girl . . I really am

Me and Sam, from a past Expo.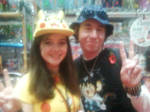 Time was getting on, so me and JK went to meet . . . . . . .
THE DOCTOR !
. . . . . . . yep, the original, you might say . . actor David Bradley was at the event, and JK bought his autograph, I was just happy to shake hands with David and say "Nice to meet you Doctor" which made David chuffed to bit's judging by his smile

Come Chistmas Day, I'll be watching him on the Doctor Who Christmas Special 'Twice Upon a Time' and I'll be like "I shook hands with that man !"

The final thing I did for my last Expo was at 4pm as the event ended at 5pm. Me and JK went over to the MYM Buzz where someone talks to the guests in front of an audiance and they broadcast it live on YouTube and record it at the same time. The 4pm one for MYM Buzz was for 'Red Dwarf'. Sadly, Hattie Heyridge and Robert Llewellyn did not join Chris Barrie and Danny John-Jules for it, as there was only space on the sofa for two actors to sit on, but it was truly a fun way to end my time at my last ever Expo.
After that, it was time to head off home as it was getting dark, so I said goodbye to my friend JK for one final time, and we parted ways at Excel for the final time . . really gonna miss that guy, except we'll still chat here on Deviant Art which is where I know him from


The saddest thing for me of all though was not getting a chance to say a final goodbye to my friend Jade of 'Tokyo'Toy's' and give her my sketch of her as a goodbye gift which on the back reminds her of the last time we met back in May 2017, when she called me a sweet guy . . for you Jade, I'll always be your sweet guy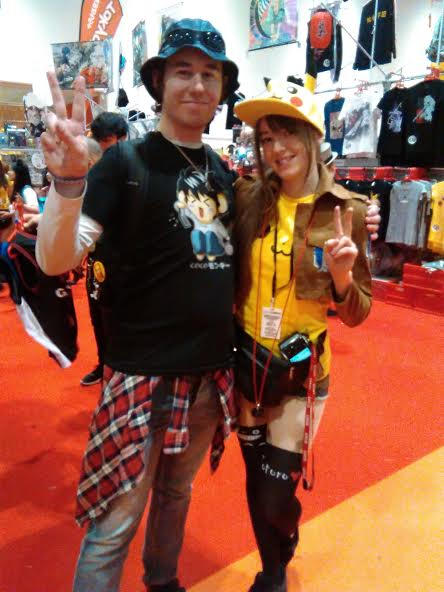 When I first attended London MCM Expo events on Sunday 29th May 2011, I didn't really enjoy my first time, but over the years, it has been an extrodinary thing to go back to every May and October every single year since, but I was getting dead tired of the repetitiveness of it, as everything there always appears to be same with no real variety of anything new very much in my view.
But I've loved going these last several years, and made exceptional friends in person at the events, meeting friends from Deviant Art face to face, and the good folks of 'Tokyo Toy's' many times too.
To end my Journal, I'd like to say thank you to the following Deviant Art friends who I've met and seen over the years there.

Alice
Peace, love and hugs xx

Alicia L. Wright
Sadly did not see on Friday just gone, but it was nice to meet you once or twice in the past.

James Kelman, JK
I'll be honest . . <------ I'm gonna miss hearing you say that !


Rebecca Everson
Sadly did not attend this month, but loved meeting you two or three times in the past.
Sam
Have fun with JK in future Expo's, and think of me from time to time when you both are there.

Matthew James Luke David
Pleasure to meet you a couple of times very briefly, just a shame we did not get to hang out really, but it was great seeing you briefly on my final day before I had to head for home, and really nice it was too to meet your sister with you.
Goodbye friends, and goodbye London Excel Centre and London MCM Expo . . it's been a
BLAST !


London MCM Expo - Sunday 29th May 2011 to Sunday 29th October 2017. Thanks for the memories . . . . . . .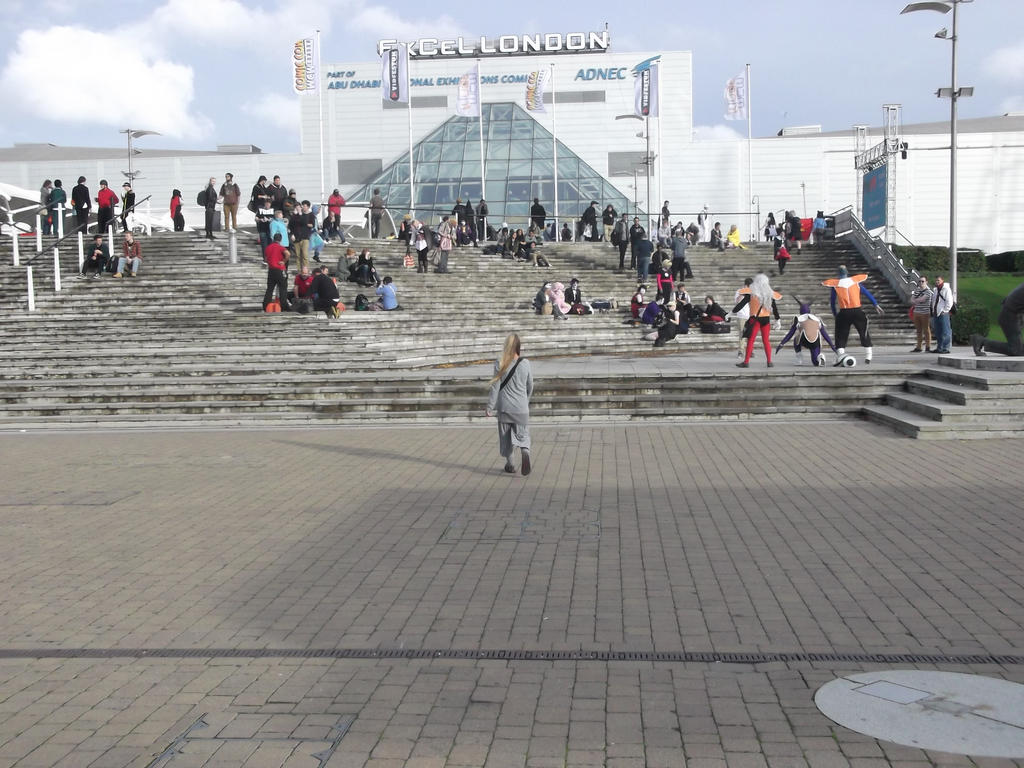 Jason

Your friendly Deviant Art Time Lord

Was lovely to see you one last time at MCM Jason!
Hopefully I'll still be able to meet up with you and Kat somewhere, maybe go to Forbidden Planet?