Yo, I'm Siggy, and this account is dead as hecc
HALT! Before you ask about commissions
To prevent anyone getting confused: I
DON'T
Post on Deviant Art anymore!
Please take a look at my instagram to gauge whether my work is to your liking, Thank you!
www.instagram.com/lackven/
Here's my Steam-
steamcommunity.com/id/lackven/
If we play the same games, you should totally hmu sometime!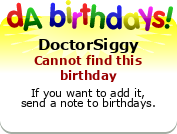 Favourite Visual Artist
i dont have any favorites, oops... I love too many artists!
Favourite Movies
I don't watch movies enough to have a favorite lmfao
Favourite TV Shows
Doctor Who & My Hero Academia currently.
Favourite Bands / Musical Artists
Another tough one... I've been listening to a few Scandroid songs on repeat lately.
Favourite Books
I have no favorite books either, but I am thoroughly enjoying the recently-released Doctor Who: Scratchman.
Favourite Games
Dragon Ball Xenoverse 2, TERA, Final Fantasy XIV Online, Kritika Online, Slime Rancher, Warframe, Halo (ALL the halo games, except halo wars and halo wars 2)
Favourite Gaming Platform
Uhh... PC, probably.
Tools of the Trade
Pencils, Paper, Beefy-Ass Computer, Cintiq 13HD, Turcom TS-6580
Other Interests
I know a lot more about the human body than is necessary to properly draw it.