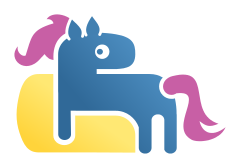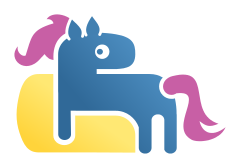 This is a logo variant of the python logo made into a logo for the django web framework. They have a pony as their mascot and while it's lovely, it's not a great brand.
Here I've kept to blue and yellow colours from the python logo as well as much of the shape of the upper half. I changed the two snakes into a single pony facing sort of away to give the idea of pony without having to change that face shape from the original python logo.
Thoughts?
Made using: Ubuntu 14.04, Inkscape 0.91 chilled, Wacom Intuos3
SVG:
sta.sh/0oknc52eoow

Reply

Thanks for the link, first time I'd seen attention on the logo from the django project.
Reply

Reply

Reply

thats awesome
django web-framework
Reply

Hello guy, I would want to know if you could make me a mockery of the logo python by keeping(guarding) both heads of the snake. I am ready to pay for this!
Reply

Now this is nice! Absolutely love it!
If I ever program a Python program with GUI, this will be on the about page

Reply

great idea and update to the django logo/mascot!

could you post the svg from the latest version too?

thanks!
Reply

That's very innovative. Can we have some ears on the pony too?
Reply

That's an interesting idea, one or two ears?
Reply

I'd go for two

Reply

See this version with ears:
sta.sh/0htxx5rb1oe
I'm not sure. I've put up the svg file so you can download it and have a play with it yourself.
inkscape.org
Reply

That's very nice of you. But for some reason I couldn't get the svg off your stash page, not sure if it has something to do with Firefox.
Reply

Reply

I decided to mess around with the original png instead, you can at least see what I had in mind

sta.sh/02a0ftviz3wx
Reply

Reply
(1 Reply)