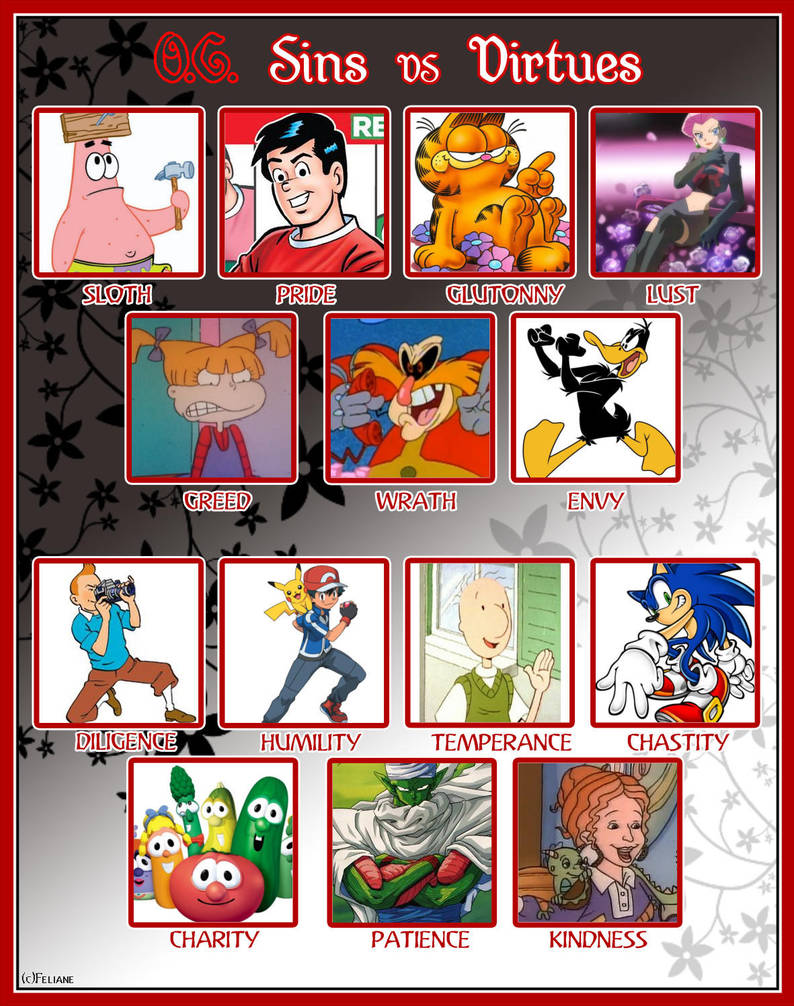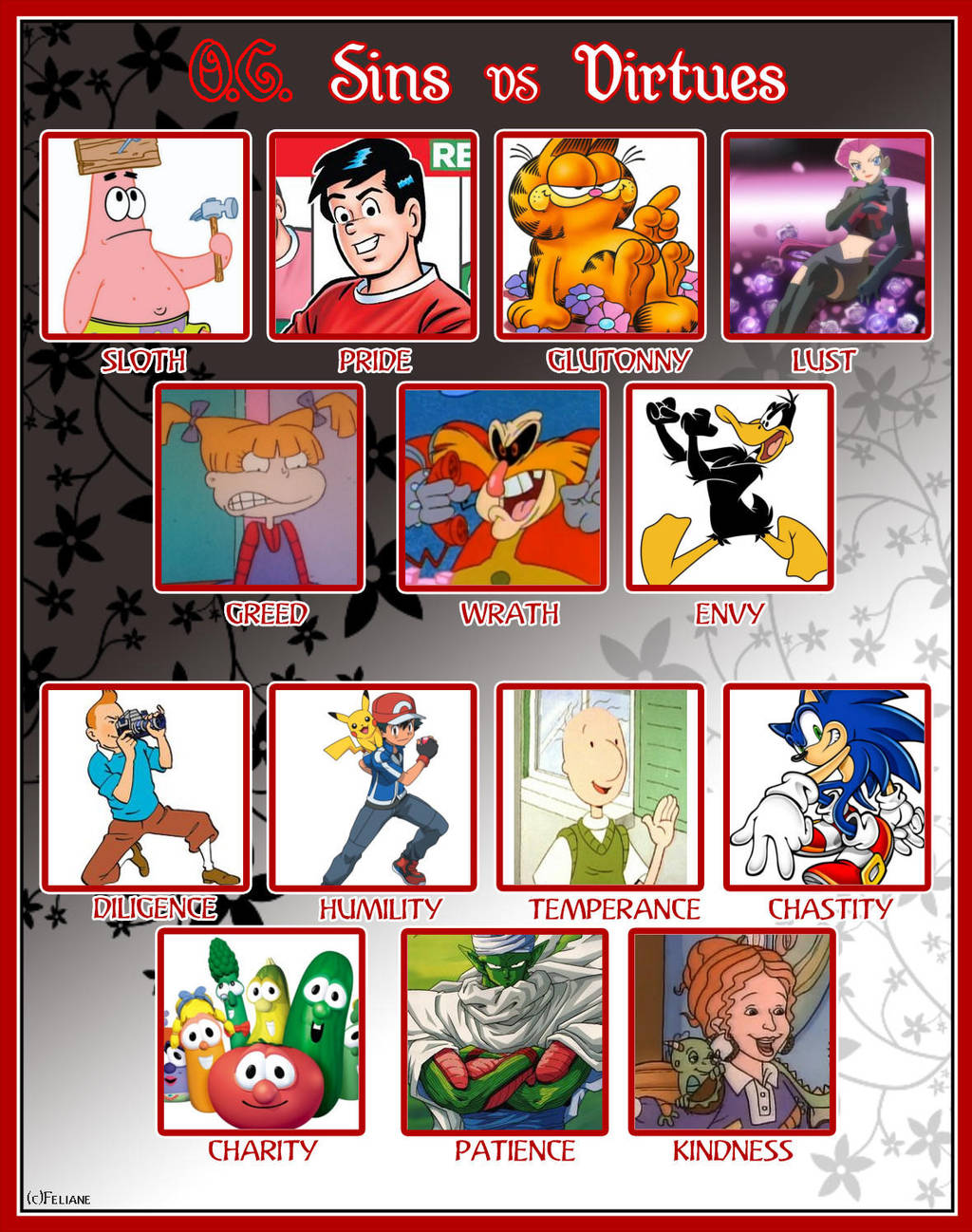 Watch
I took a look at the
original template
for this meme, but I completely misunderstood that it needed to be OCs in these squares. Oh, well, a lot of other people did as well, so I won't let that get me down.
Below is a list of characters and the respective sins I chose for this meme:
-SINS-Sloth:
Patrick Star - I could've chosen Snorlax, but thanks to Pulverizing Pancake, it was thankfully spared.

Pride:
Reggie Mantle - He's the definition of vanity. I'm surprised he's isn't the dictionary definition.
Gluttony:
Garfield - Again, I could've chosen Snorlax, but Garfield was just calling my name, no thanks to all those trippy "Garfielf" videos.
Lust:
Jessie - Still a great character despite this.

Greed:
Angelica Pickles - Obviously.
Wrath:
Dr. Robotnik (
AOStH
)
Envy:
Daffy Duck - Still one of my favorite characters, though, and nothing's gonna change that.

-VIRTUES-
Diligence:
Tintin - I haven't read much
Tintin
, but he is a phenomenal character, a relatable protagonist. I need to get into it more.

Humility:
Ash Ketchum - There's a
reason
he's one of my favorite characters ever.

Temperance:
Doug Funnie -
Doug
is one of the most underrated TV shows out there. It's one of the most down-to-earth as well, and Doug Funnie is so relatable, I can't even begin to list the similarities between he and I.
Chastity:
Sonic the Hedgehog - As if his constant running from Amy didn't tell you.

Charity:
Everyone in
VeggieTales
, a childhood treasure of mine, BTW.

Patience:
Piccolo
Kindness:
Ms. Frizzle - Heck yes! I'm so PUMPED for her return. I'd NEVER skip any of her classes if she was my teacher.
The above is strictly my opinion. It does not reflect general views.
Original template by
Feliane

I would've put Snorlax as one of the virtues: it's incredibly patient for a creature its size, letting children and smaller Pokemon bounce on its stomach, and very gentle as well; with its sheer strength, it would be easy to hunt down other Pokemon, but Snorlax prefers to forage berries and vegetation (and occasionally, rummage through trash). Snorlax, when you think about it, almost seems to be protecting the player from things that they aren't ready for by blocking late-game routes until they've acquired a Poke Flute (at that point, your Pokemon should be strong enough to protect you as you travel onward). If one joins you on your adventure (catching the Snorlax blocking the road, for example), it will prove to be a very loyal and formidable ally. Still, if Snorlax has any faults, it would probably be Sloth, though it at least moves every now and then. All of this is just my personal opinion, though...
Reply