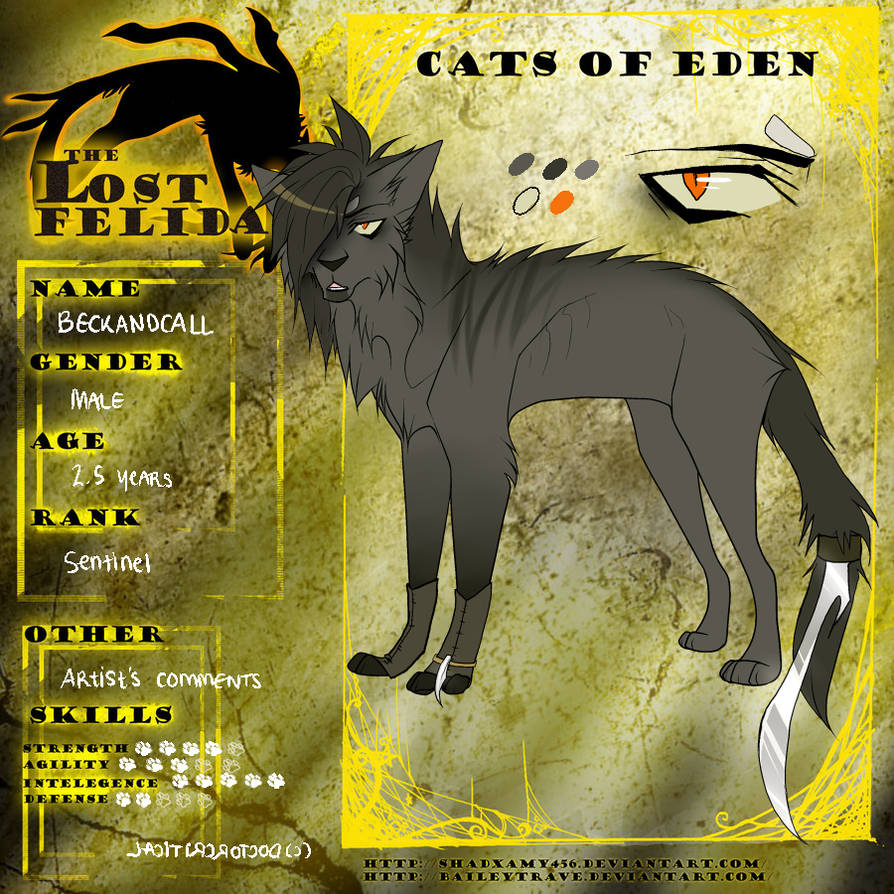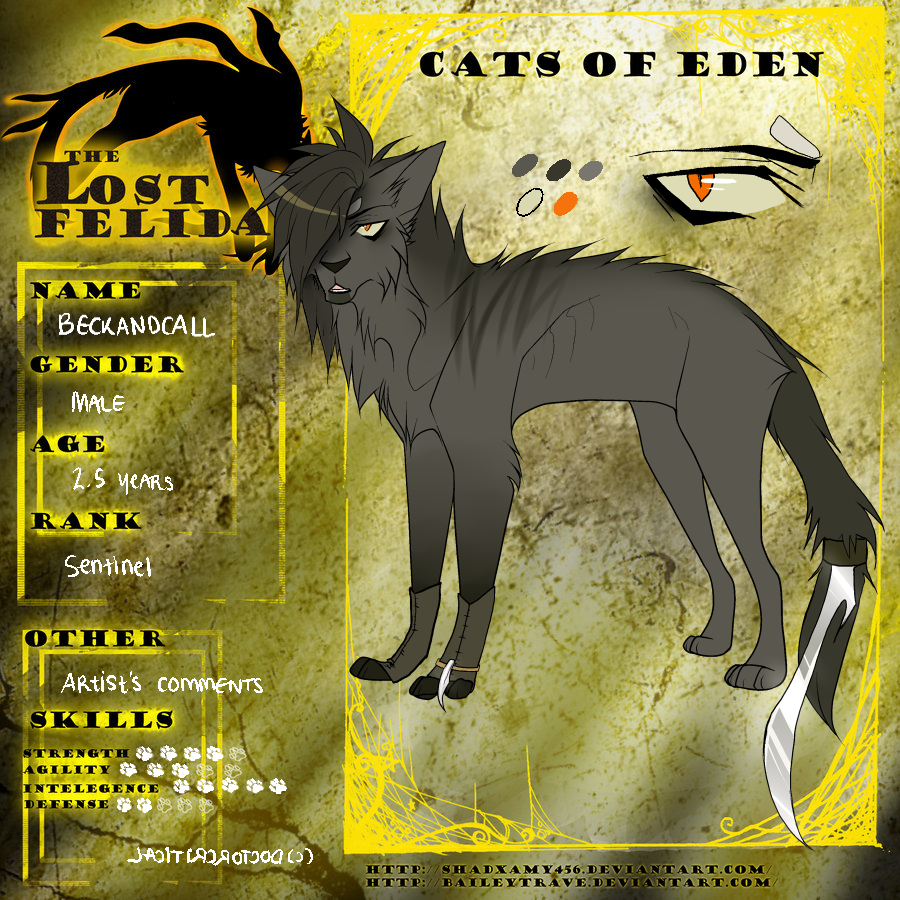 Watch

EDIT:// his application has been updated~

Decided to rejoin this group since =Buttslap made her application...starting anew with a brand new character. c: Ah, this group...I was with this group since the very very beginning, it's gonna be so awesome to RP in it again with all the people I haven't talked to in forever




Name
In the group of bandits that he grew up with, he was such a go-to cat that he eventually started being called "Beckandcall"... He's shortened it into simply "Beck", which is what he introduces himself as.

Gender
Male

Age
He's technically 2 1/5, but he's very nearly 3 years.

Rank
Sentinel

Breed
Mixed, mostly Russian Blue

Accessories
[ Wrist Guards ]: As he does have thin limbs, he wears leather wrist guards that give his paws support.
[ Claw ]: To make up for the toe he's lost on his front left paw, he wears a metal claw that functions as both a weapon as well as a means of stability.
[ Tail Blade ]: A thin, scythe-like blade that he attaches to his tail when on active duty. He is proficient with this, as he does have a relatively long tail, and even though the weight of the blade can sometimes put him off balance, he can pack quite a punch.

Personality
Beck is a relatively morose, quiet figure. He tends to be pretty melancholy about most things, and he much prefers to dwell in the miseries of life than in the blessings...this doesn't mean that he's depressed or anything, but simply thoughtful, perhaps to a fault. He often overthinks things, which has been more than once the cause of his downfall, but despite this he's very intelligent, with a memory like a steel trap and a reasoning process quicker than lightning. What he lacks in strength or brawn he makes up for in the advantage of empathy, and he is very emotional, finding it easy to put himself in others' shoes and view situations from their point of view. Even though he can be sarcastic and at times very bitter, he's a good friend, and definitely an ally in any sort of problem you might be facing.

Kin
No immediate family is known, although he does sometimes hint to having an aunt that lives somewhere very far away.

Backstory
Beck was born to a poor mother and an ill father, in one of Haris's poorest regions. However, they were good cats, and from the get go they taught their son that the only way to accomplish your goals is to work honestly for them, and let nothing stand in your way...he took this to heart, and as soon as his age allowed, he began roaming the streets, looking consistently for a good job that could help him and his small family survive comfortably. He hopped around from job to job, never staying for long, but still managing to scrape together at least enough money to pay for his father's medication...until, inevitably, he died.

He and his mother were devastated. It took several long months for the grieving to end, and Beck was at his wits' end...if he didn't find some sort of financial security, who knows when his mother would be lost as well? The deeper Beck waded into the shadowy end of Haris, the blacker the odd-end jobs became, and it was only a matter of time before the young tom found himself a part of a band of misfit thieves tacked together from the scattered world's ashes. They cultivated their efforts, stole valuable artifacts and sold them to gain profit...success after success, Beck went home to his mother, paying away their struggles and buying her fresh food and cool, clean water. His mother never asked about where the money came from, and in turn Beck never told her, knowing that she wouldn't be happy knowing that he had been stealing...but who cared? For the first time in his life, Beck was able to save his family...this was his destiny.

A few months passed, and Beck's small band of thieves grew larger, forming together one evening with a similarly-sized group from the wastelands. It was at this cross section that he met a peculiar cat who shared his honest nature; a young tom named Backstabber, who would quickly grow to become the best of Beck's friends. The two were inseparable, always together...one was never seen without the other, and whenever they collaborated to secure an artifact or something of value, success consistently met them.

Until, that is, the fateful evening that it all turned to hell. The two were hired along with a few others to secure a much larger job...an expensive vase from the Overseer's palace. Backstabber and Beck agreed, and under the cover of night, they slipped quietly into the palace. It was going smoothly, and the vase was almost theirs until a guard was foolishly alerted...a chase ensued, and Beck only had a few split seconds of thought before he was forced to run. At the last second, in the blindness of panic, Beck darted behind the vase's pedestal, kicking it over with his back paws and hoping to slow the guards as he took off down the hall. Little did he know that Backstabber was in the pedestal's way; He considered going back to help his best friend, but fear gripped his heart: Beck could only hear the crashing of class and marble and a blood-curdling yowl of anguish before he slipped out of the crack of the palace wall and vanished into the night.

Backstabber was very surely dead, and the weight on his heart was a heavy one as he returned to Haris. He felt so guilty that he immediately went to his mother, coming out and telling her the truth about his life of theft and dishonesty...the last he saw of her was a look of crushed disappointment on her face as she walked away, never to be seen again. Beck's life was suddenly shattered; his father, dead. His mother, gone. His best friend, imprisoned as a thief, probably to be executed...and it was all because of him.

Beck's life was wreckage after that. He returned to his life of crime, reuniting with some of his old acquaintances and making a shoddy living stealing small things here and there. One morning, he was reading the news column when his tired eyes caught a familiar name...Backstabber. His ears flew forward, and he rapidly scanned the paper...the article caught him up on how his friend's life had been. A Silarian, for the Overseer himself, serving proudly before meeting his end in the war against Haris. For a moment Beck felt sadness, but then a swell of pride washed over his heart; his friend died a hero, and Beck was the only one who could continue his legacy.

The next morning Beck left Haris for the last time, going to Eden and swearing his loyalty to the Overseer and his family. He became a Sentinel for the palace, where he still serves, swearing to himself each morning that he would continue Backstabber's life story to the best of his abilities.

Other


Ever since the night when Backstabber was imprisoned, Beck has had insomnia, for every time he's attempted sleep he's heard the yowl of his friend in his sleep...he's learned to live without a lot of sleep though, so it only really affects his physical appearance.



For growing up a Haris cat, he's got a very good personality, and even though some have trouble trusting him for his past he never doubts that Eden is his home. He's sometimes ostracized for his bloodlines, but he accepts it.

Relationships
N/A, hasn't been RPed yet~

Roleplay Example
(from #Dogs-of-Celious-City)
Celious sleeps.
Yellow, half-lidded eyes stared dully out the window at the snow, watching it slowly drift downwards from the black sky to blanket the darkened, shivering city. Howler's ribcage shuttered, and the cold of the glass suddenly stuck in his throat, making him cough quietly onto its pane...blood dripped from his jaw onto the wooden floor beneath his claws. Glancing at it, he lay his ears back, easing his lanky form to stand and listening to only the sound of his overgrown claws clicking on the floor as he padded to the collection of pillows and blankets he called his bed. "Boring city," he said in his low, growling tone, laying down on a pillow and heaving a sigh. "I should kill someone tomorrow."