Gallery
|
Watch me
|
Note me
us13.admin.mailchimp.com/campa…
GREETINGS!
I'm still hard at work on WARBIRDS OF MARS as well as commissions, but I suddenly realized and FREAKED OUT that PHOENIX COMICON is just 1 week away!! Well, here's the details: I'll be there (Artist Alley #608) with a new brand new DOCTOR WHO print, copies of my own books and comics (and copies for sale of books I've illustrated), prints, original art, WARBIRDS OF MARS merch, sketches, etc! I can't wait to see you there, so get your badges now!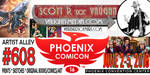 NEW DOCTOR WHO ART PRINT; "Moffat's Pub" Get it at PHXCC first!!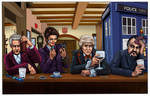 RELEASES AND NEWS:
My 11-page DOMINO LADY comic has just been published by MOONSTONE BOOKS and is available in their brand new Sherlock Holmes & Domino Lady Trade-paperback. Domino Lady is a classic pulp heroine from the 1930s and Sherlock Homes is the original consulting detective, and here they are together! This new tome features prose and comics by Nancy Holder, Bobby Nash, Mike Fyles, James Chambers (who wrote the comic I illustrated) James Brown, Reno Maniquis, Nick Diaz, Matt Ross, Kori Zick (and Yours Truly).
ORDER IT NOW!
moonstonebooks.com/shop/item.a…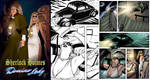 Recently I was a guest on FIST FULL OF PODCASTS chatting Pop-Culture! Check it out!
I have New Illustrations in AIRSHIP 27's LEGENDS OF NEW PULP FICTION and a 5-page Sinbad the Sailor comic in their latest ALL-STAR PULP COMICS!
www.amazon.com/All-Star-Pulp-C…
UPCOMING: Illustrations for 5 Smiling Fish!
COMMISSIONS In-Progress!
I AM AVAILABLE FOR COMMISSIONS. Email me for rates and info! m-n-v-who@juno.com