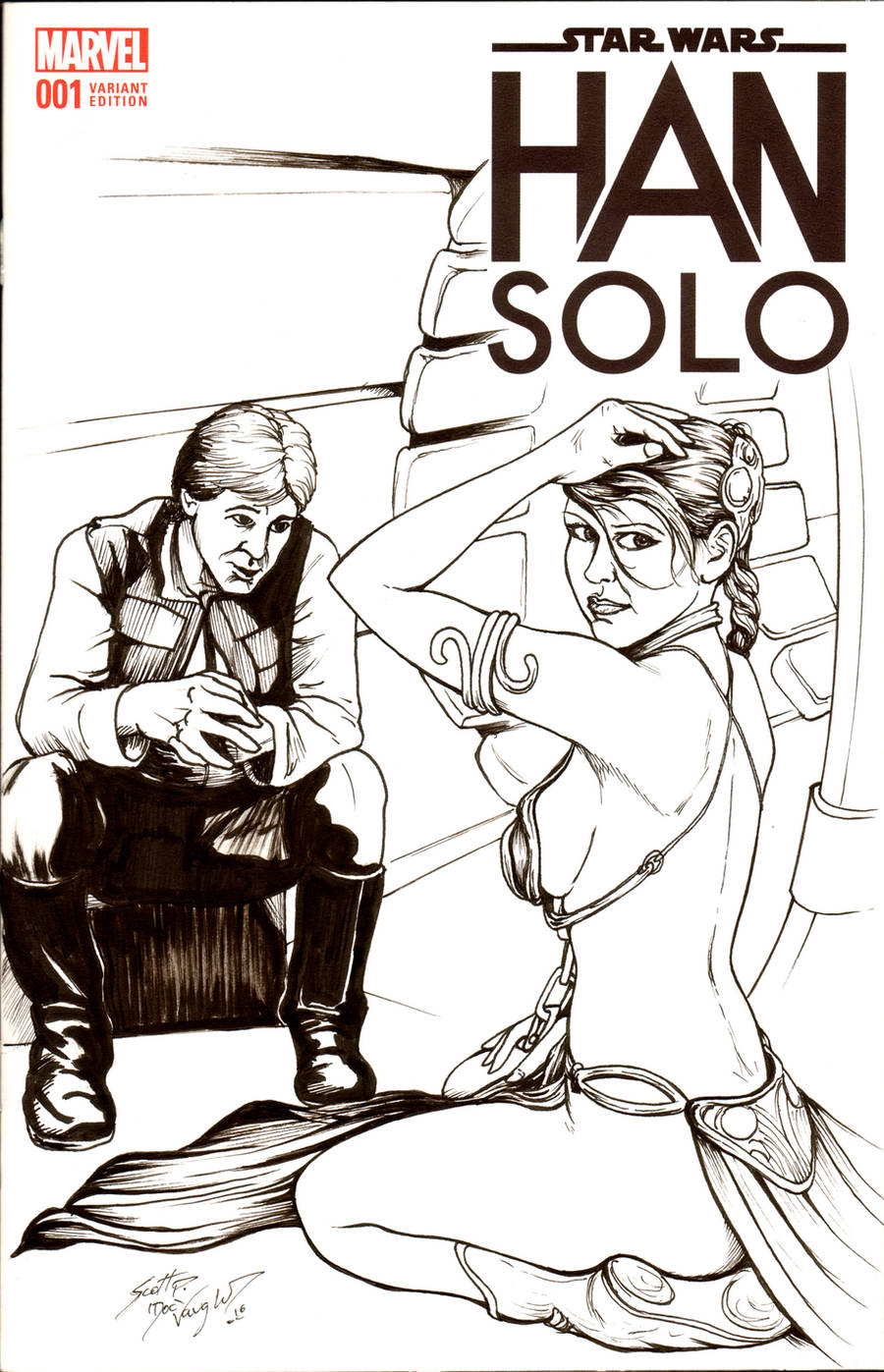 Watch
Just finished this Original ‪#‎Sketchcover‬ on ‪#‎StarWars‬ ‪#‎Hansolo‬ #1 from ‪#‎Marvelcomics‬ and you can get it from my ‪#‎Etsy‬ store!
etsy.com/shop/DocVaughnArt

Original Art (micron pens and a little marker) on blank Sketch cover of STAR WARS - HAN SOLO #1 (MARVEL, 2016).
This original inked art sketch cover based on STAR WARS is rendered on the cover of HAN SOLO#1 by artist Scott P. Vaughn (me). Art includes Princess Leia in classic 'Slave Leia' pinup pose and Han aboard the Millennium Falcon.

BUY:
www.etsy.com/listing/463580875…

I'm also on PATREON:
WARBIRDS OF MARS pages early
Exclusive sketches and behind the scenes ideas, history and pics.
And more (videos? Streaming?), as we grow!

Click the link to learn more:
:thumb549049672:
www.patreon.com/scottpvaughn

I always suspected that she kept that outfit.
Reply

Ohhhh.. so that's the origin story of Ben Solo. Or, "How I Met Your Mother In Space".
Reply

Reply

Could I love this more? I think not!
Reply

Now THAT is a variant cover I'd be willing to pay for.
Reply

Leia:
"Han?"
Han:
"Yeah, Yer Worship?"
Leia:
"It's been three days since we blew up Jabba's sail barge, Han."
Han:
"So?"
Leia:
"So GET ME SOME DAMN CLOTHES, Han!"
Han:
"What's wrong with traditional Tatooine native garb?"
Leia:
"Han!"
Han:
"Okay, okay, but first I gotta polish the power convertors. Can I borrow that loincloth?"
Leia:
"HAN!"
Han:
"Geesh. No sense of humor."

Reply