It has been almost a year since I submitted (or made) a drawing. I have been mainly busy with re-inventing my Tarot Deck and did not really drew anything else. Until now...
I am late for Halloween, but I don't care.
November is my Witch Month. So I drew my Witch again...
And all the details and elements I associate with dark, Gothic tales. Everything I love to draw. Everything that allures me in the theme.
I hope you like it

Have a nice day.
Same girl as on these 2: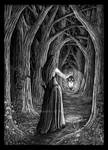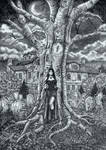 (the tell tale sign is spider familiar and left hand hidden in a glove, what? you can't see the spider? it walking alongside her by her feet

)
-+-+-+-
Pencil with Photoshop retouch
Image size
1486x2097px 3.89 MB