Hey

still on working Neo but will have to distance myself from the project after the next few animations are done
so I can focus on other arts and such
Meanwhile I figure this would be a good time to plug 2 undertale comics that are I think worth a read:
One More Chance by

and

- An asriel lives again
comic in the same vain as dreemurr reborn but this takes place in the beginning of a new time line
where things seem somewhat straightforward to get the happy ending but alot of things(mostly bad) start to unfold on
how that timeline came to be, it's pretty intriguing to say the least and the Manga artwork
while not 100% perfect is Really astonishing for something fan made.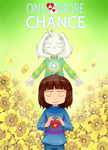 Asriel Synth by

- Yet another asriel lives comic but this one is abit ridiculous and cheesy
plus the translation is a bit shoddy but it's entertaining to say the least especially if you appreciate saturday morning
-esque artwork.
I gotta also give props to the artist by doing something experimental with it by having you
listen to songs(which you'll have to search up and listen to unfortunately) as you read to add immersion
I also want this to get noticed so that the artist gets more followers too, it's sad that despite his excellent art
he's got less followers than me.