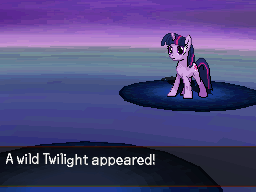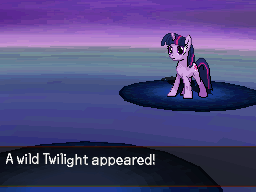 Oh Shizz!
Twilight Sparkle

She is so effing Cute and junk.....but if i think of her to much i just remember Drawn Together XD
So yeah

She appeares when you get all 5 ponys and bring it to the castle and junk.
---info
Type-Psychic
Twilight Sparkle , a unicorn pony Pokemon. Twilight Sparkle is the smartest and the most adorkable among the pony type Pokemon.
-base stats
HP:50
Attack:30
Defence:40
SP.attack:80
SP.defence:75
Speed:50
------------
Oh look there are Moar Ponymons!
[link]

[link]

[link]

[link]

[link]

[link]

[link]

[link]

V2
[link]

[link]

[link]

Mane6
[link]

[link]

[link]

[link]

Frosfillas
[link]

[link]

[link]

[link]

[link]

[link]

[link]

[link]

[link]

[link]

2 Legends
[link]

[link]

[link]

[link]
Mummy/Zombie
[link]

[link]

[link]

Wet Mane
[link]

[link]

[link]

[link]

[link]

[link]

[link]

[link]

[link]


[link]

[link]

[link]

[link]

[link]

[link]

----------
If used plz give credit to me :3 Cause i made the sprite
Font by spaceemotion
[link]